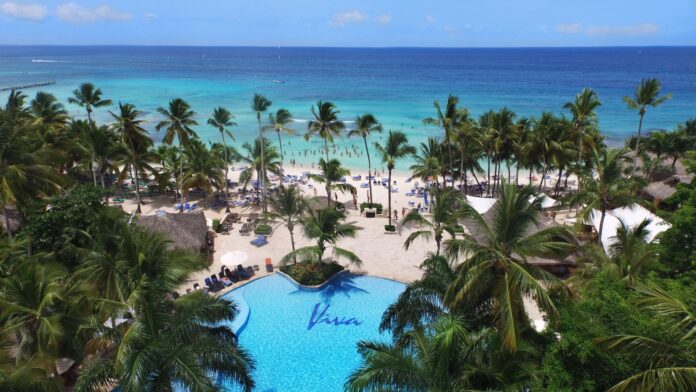 Through a franchising arrangement with Grupo Cancun, Wyndham Hotels & Resorts has announced the upcoming opening of Wyndham Grand Cancun All-Inclusive Resort & Villas. The resort, the first Wyndham Grand in Mexico, is accepting new reservations and will open on November 1, 2022.
The hotel will become part of an exclusive collection of roughly 65 Wyndham Grand hotels and resorts, which have a global presence in important locations such as China, Vietnam, Turkey, Germany, and the United States. The Wyndham Grand provides service that is both personable and distinguished. The brand is a one-of-a-kind option for those in search of an excellent, upscale hospitality experience. This hotel opening continues the Company's rapid expansion in Mexico, adding to its portfolio of over 65 hotels and resorts in locations including Mexico City, Monterrey, Tulum, Guadalajara, Playa del Carmen, and Puebla.
The oceanfront hotel, located in the Hotel Zone of this renowned beach destination, displays timeless Mexican architecture throughout its 364 guest rooms, suites, villas, and common areas. Guests may select from seven restaurants serving cuisines ranging from Italian and Brazilian to Japanese and, of course, classic Mexican cuisine. In addition, the resort features five bars, four swimming pools, daily activities for all ages, a spa, a fitness centre, retail shops, a beach club, tennis courts, and a children's club.
"With more than three decades of experience, we see that we are in an increasingly globalised world and recognised an opportunity to strengthen our international position through working with Wyndham Hotels & Resorts," said Abelardo Vara, President, Grupo Cancún.
"As the world's largest hotel franchising company, Wyndham has a strong sales and reservation system, which helps guide guests who are dreaming of their next destination to visit. As the resort converts to Wyndham Grand Cancun All-Inclusive Resort & Villas, we look forward to partnering with their highly professional team."
"Wyndham Grand properties offer experiences in some of the world's most desired destinations, including Cancun," said Scott LePage, President, Americas at Wyndham Hotels & Resorts. "Guests can enjoy an elite experience in the centre of the region and may immerse themselves in Mexican culture through the resort's vast array of eating and activity options."
The debut of Wyndham Grand Cancun All-Inclusive Resort & Villas coincides with an increase in the demand for vacations that require no planning. According to a new survey commissioned by Wyndham and performed by OnePoll, 75% of travellers say purchasing an all-inclusive holiday is the greatest way to travel and 77% believe an all-inclusive vacation is the least stressful way to travel.
On November 1, 2022, Wyndham Grand Cancun All-Inclusive Resort & Villas will join the company's acclaimed Wyndham Rewards loyalty programme, allowing over 95 million enrolled members to redeem points at thousands of hotels, vacation club resorts, and vacation rentals worldwide.