Informa Markets in India (formerly UBM India) and India's leading B2B exhibition organizer, is all set to bring in the 27th edition of SATTE (South Asia Travel and Tourism Exchange) from the 8th to 10th of January, 2020 at the India Expo Centre, Greater Noida, Delhi – NCR. This year, over 1,050 exhibitors and buyers and travel professionals from over 50 countries and 104 Indian cities, are set to visit the show. The expo continues to provide a comprehensive platform to the professionals from all segments of travel, tourism and hospitality industry from across the globe. The show equally offer platforms to players of the inbound, domestic and outbound markets.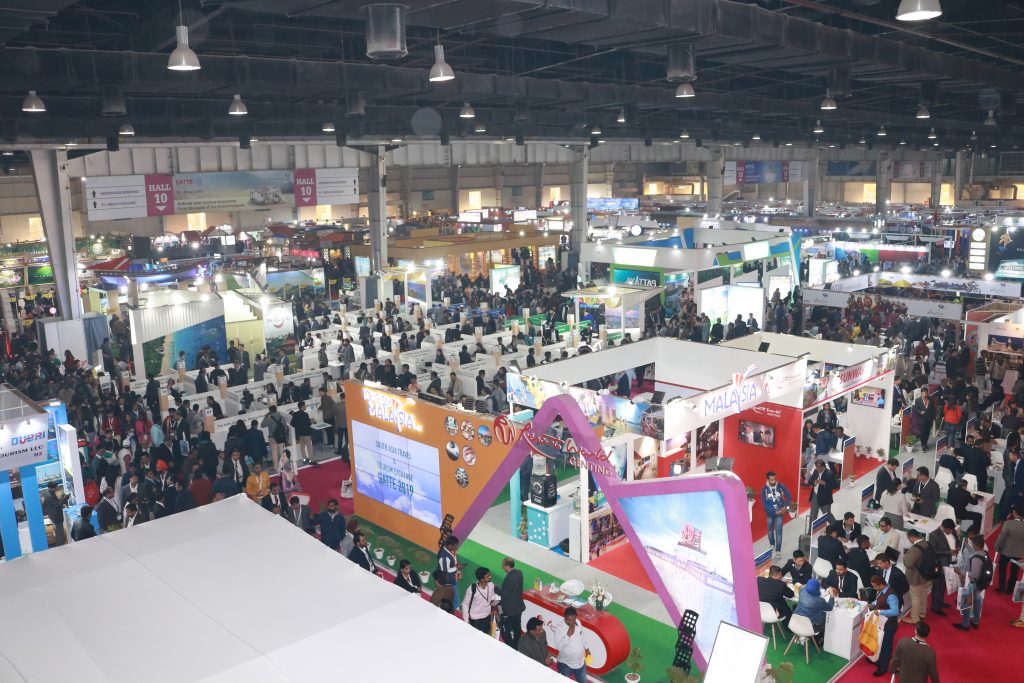 With a focus on building new business partnerships and announcements, the three-day expo promises to deliver and discuss current trends in the industry. Keeping up with their annual promise, SATTE 2020 will host an exciting line-up of conferences to enlighten the industry by addressing the challenges and opportunities that India tourism offers. SATTE 2020 continues to receive active support from various Indian and International travel and trade associations, wedding planners, corporate travel decision-makers and investors amongst others. While Indonesia is the Premium Partner country for SATTE 2020, Thailand, Malaysia, Singapore, Dubai and Sri Lanka are Partner Countries. Mauritius is the Feature Country for SATTE 2020. Rajasthan, Uttarakhand, Madhya Pradesh, Karnataka, Gujarat, West Bengal and Goa are confirmed as Partner States and a few more are set to join in.  Uttar Pradesh is the host state for SATTE 2020. Besides, many other countries and states are participating in various capacities.
With an exciting line-up of conferences, SATTE 2020 will host a series of sessions and workshops, presented and lead by high profile speakers and industry stalwarts, covering topics from all aspects of the industry.
The first panel discussion on 'Global Economic Scenario and Tourism Trends' on Day 1 will discuss the emerging scenario in global travel and tourism industry and in India.

The second-panel discussion: 'Adventure Tourism: Unlocking New Avenues' will focus on major challenges in adventure tourism.

Day 2 of SATTE 2020 Conference will once again be a Corporate Travel Day powered by the Corporate Travel Community (CTC) that are set to organise two powerful sessions on Airline Programmes + NDC Education Forum and '

The Accommodation Outlook and Technology Innovations Education Forum'.
Apart from these, the Network of India MICE Agents (NIMA) will organise a set of 5 sessions and 2 workshops on MICE tourism.
SATTE has grown hand-in-hand with the consistent support of the Ministry of Tourism as well as all State Tourism Ministries/Boards and the Indian travel and tourism fraternity in totality. Continued support of international organizations/associations and Indian travel trade associations such as World Tourism Organisation (UNWTO), Indian Association of Tour Operators (IATO), Travel Agents Association of India (TAAI), Association of Domestic Tour Operators of India (ADTOI), Travel Agents Federation of India (TAFI), IATA Agents Association of India (IAAI), India Convention Promotion Bureau (ICPB), Universal Federation of Travel Agents Association (UFTAA), Pacific Asia Travel Association (PATA) and Enterprising Travel Agents Association (ETAA) to name a few have helped bolster the efforts of SATTE. 
Speaking on the expectations from SATTE 2020, Mr. Yogesh Mudras, Managing Director, Informa Markets in India, said: 
"Every year, we put in our best efforts to make SATTE bigger and this year we aim to reach new milestones with the continued support from our exhibitors and partner countries and states. Growing at a rapid pace, in 2018, the travel and tourism sectors contribution to GDP was INR 16.91lakh crore ($240 billion) and is predicted to grow at an annual rate of 6.9% to INR 32.05 lakh crore by 2028. The government of India has also introduced a Tax Refund for Tourists (TRT) to encourage tourists to spend more in India and boost the country's tourism. India offers geographical diversity and has a diverse portfolio of niche tourism products, cruise adventures, eco-tourism and rural & religious tourism bringing a multitude of foreign tourists to the country. Our domestic, inbound and outbound tourism have been recording substantial growth in the last few years".
"The government has also launched marketing and branding initiatives while also taking efforts to boost investment in the tourism sector. The Incredible India 2.0 campaign saw the launch of its mobile app that would assist a traveller in India and showcase the experiences of travelling in the country. With such incredible growth in the sector, SATTE is extremely important for all those associated with the travel & tourism and hospitality industry. In fact, the trend of destination weddings has been well captured by our exhibitors this year and thus SATTE 2020, is a holistic expo that maps and analyses such trends along with forecasting developments in the sectors and providing viable solutions to help business thrive in the ever-evolving industry", said Mr Mudras.
Informa Markets will also be hosting the 4th Edition of the SATTE Awards powered by T3, to recognize and celebrate the excellence, triumphs and innovations of key stakeholders in the Travel and Tourism industry which is based on genuine and authentic parameters, innovation and excellence in the travel and tourism industry, a philosophy well imbibed in the values of SATTE.