MSC Cruises has received delivery of the MSC Seashore, its new flagship, from Fincantieri's Monfalcone shipyard. The 4,560-passenger Seashore, according to a press release, is the largest cruise ship ever built in Italy.
MSC Seascape, a sister ship, is still being built at the shipyard and is scheduled to enter service next winter.
MSC said an exclusive ceremony was organised at the Fincantieri shipyard in Monfalcone to commemorate the milestone, which was attended in person by MSC Cruises Executive Chairman Pierfrancesco Vago, members of the Aponte and Aponte-Vago families, Giampiero Massolo and Giuseppe Bono, Chairman and CEO of Fincantieri, as well as representatives from MSC's new builds team, executives, and shipyard workers.
During the ceremony, which pays homage to centuries-old marine customs, Roberto Olivari, the shipyard director of Fincantieri, presented an ampoule containing the water that first contacted the hull when the MSC Seashore was floated out earlier this year to Giuseppe Galano, the master of the MSC Seashore.
MSC Group's executive chairman of the Cruise Division, Pierfrancesco Vago, stated:
"The construction of MSC Seashore is an investment that generates a direct and indirect economic impact of almost 5 billion euros on the Italian economy. At the same time, it's coming into service also activates an important economic and employment driver for coastal communities and much beyond, generating a further significant economic impact every year for the tourism industry."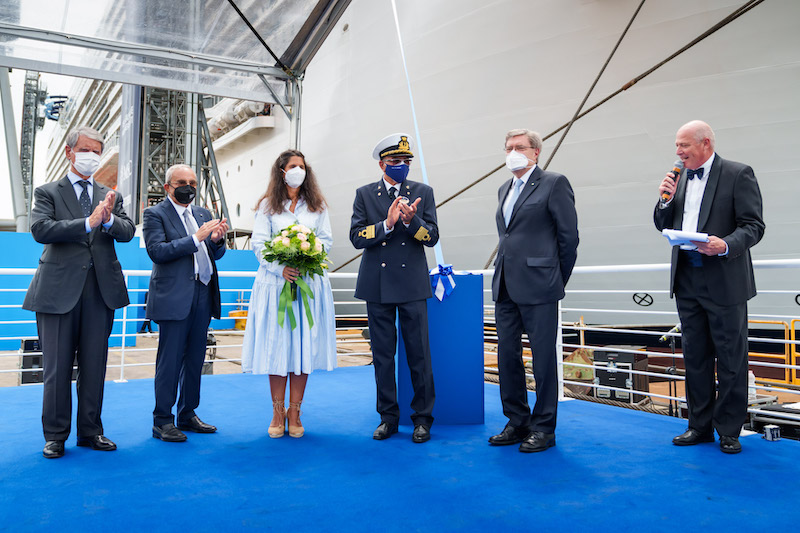 The MSC Seashore is the fourth cruise ship delivered by Fincantieri in Italy during this "still extremely demanding year," according to Giuseppe Bono, the CEO of Fincantieri. All of them, and future milestones, have been met with success, and this is never taken for granted he added. Bono added that this is why he believes this ship to be not only the best symbol of recovery for the whole cruise industry, but also of the group's ability to fully preserve its workload by leveraging its competencies and soundness.
The Seashore will begin her first season in the Mediterranean, sailing the 'Six Pearls' itinerary, which will take her to Genoa, Naples, and Messina in Sicily, as well as Valletta, Malta, Barcelona, Spain, and Marseille, France.
The ship will leave Genoa on Oct. 31 for an epic 18-night voyage as it repositions to North America. From November 20, the ship will provide seven-night Caribbean cruises, calling at San Juan in Puerto Rico, Charlotte Amalie in St. Thomas, Puerto Plata in the Dominican Republic, and Ocean Cay MSC Marine Reserve, MSC Cruises' private island in the Bahamas.
– India's new age travel digital media