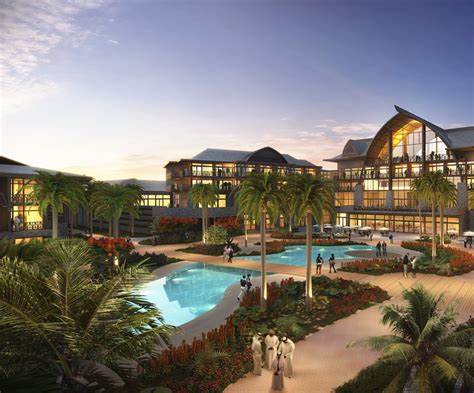 Marriott has expanded its all-inclusive offerings with the addition of 20 Autograph Collection hotels.
Mexico, the Dominican Republic, Jamaica, St. Lucia, Antigua and Grenada, and Costa Rica are among the countries with resorts.
Autograph Collection's vice president and worldwide brand leader, Jennifer Connell, stated, "The arrival of the first all-inclusive resorts marks an exciting chapter in the brand's story. From focal design moments and immersive dining hideaways to signature rituals and personal guide adventures, Autograph Collection All-Inclusive Resorts transport you to a world of your own, where experiences are tailored, imagination is piqued, and joy is unleashed."
Guests will enjoy an elevated all-inclusive holiday with a distinct design style, stimulating programmes that encourage exploration and growth, and dynamic regionally driven cuisine options, as well as enhanced spa and wellness facilities.
Planet Hollywood Adults Scene Cancun, An Autograph Collection All-Inclusive Resort – Adults Only, for example, provides excursions tailored to individuals seeking unforgettable experiences, such as a catamaran trip over the Caribbean Sea's turquoise seas to the gorgeous Isla Mujeres.
Guests at Royalton Antigua, An Autograph Collection All-Inclusive Resort & Casino can enjoy the privacy of the island's only overwater bungalows, which are made of natural wood and feature glass floors that allow guests to admire the vibrant marine life below, as well as an infinity plunge pool and an overwater hammock.
Following a recent arrangement with Sunwing Travel Group's hotel division, Blue Diamond Resorts, the below 20 resorts have joined the platform, propelling Marriott International into the top ten of worldwide all-inclusive players.
In Mexico
Planet Hollywood Cancun, An Autograph Collection All-Inclusive Resort
Planet Hollywood Adults Scene Cancun, An Autograph Collection All-Inclusive Resort – Adults Only
Royalton CHIC Cancun, An Autograph Collection All-Inclusive Resort – Adults Only
Royalton Riviera Cancun, An Autograph Collection All-Inclusive Resort & Casino
Hideaway at Royalton Riviera Cancun, An Autograph Collection All-Inclusive Resort – Adults Only
In Dominican Republic
Royalton Bavaro, An Autograph Collection All-Inclusive Resort & Casino
Royalton CHIC Punta Cana, An Autograph Collection All-Inclusive Resort & Casino – Adults Only (expected to be welcomed into the portfolio in January 2022)
Royalton Punta Cana, An Autograph Collection All-Inclusive Resort & Casino
Hideaway at Royalton Punta Cana, An Autograph Collection All-Inclusive Resort & Casino – Adults Only
Royalton Splash Punta Cana, An Autograph Collection All-Inclusive Resort & Casino
In Jamaica
Grand Lido Negril Au-Naturel, An Autograph Collection All-Inclusive Resort – Adults Only
Royalton Blue Waters Montego Bay, An Autograph Collection All-Inclusive Resort
Royalton Negril, An Autograph Collection All-Inclusive Resort
Hideaway at Royalton Negril, An Autograph Collection All-Inclusive Resort – Adults Only
Royalton White Sands Montego Bay, An Autograph Collection All-Inclusive Resort
In St. Lucia
Royalton Saint Lucia, An Autograph Collection All-Inclusive Resort
Hideaway at Royalton Saint Lucia, An Autograph Collection All-Inclusive Resort – Adults Only
In Costa Rica
Planet Hollywood Costa Rica, An Autograph Collection All-Inclusive Resort
In Antigua
Royalton Antigua, An Autograph Collection All-Inclusive Resort & Casino
In Grenada
Royalton Grenada, An Autograph Collection All-Inclusive Resort
– India's new age travel digital media