The UK travel giant Thomas Cook has reportedly crashed, causing chaos and mayhem for the stranded holidaymakers. The company declared for bankruptcy early Monday at the High Court in London as its last attempt to resuscitate its business fell through.
We are sorry to announce that Thomas Cook has ceased trading with immediate effect.

This account will not be monitored.

Please visit https://t.co/WWiKkzLYQJ for further advice and information.#ThomasCook pic.twitter.com/Nf1X3jn97x

— Thomas Cook (@ThomasCookUK) September 23, 2019
The collapse of one of the UK's best-known brands came about after months of talks with investors, led by the Chinese Fosun Tourism Group proposed a $1.1 billion bailout in exchange for control of Thomas Cook UK's tour operations. With reports of overburdened debts of $2.1 billion, the travel company tried to secure an additional of £200 million from private investors to help and keep the company afloat.
"Although a deal had been largely agreed, an additional facility requested in the last few days of negotiations presented a challenge that ultimately proved insurmountable," said the company's CEO Peter Fankhauser.
After a detailed discussion with the board, the company concluded that their only option would be to proceed towards liquidation and cease airline and booking operations immediately. Business Today reported that the sudden news of the carrier has left almost nearly 150,000 holidaymakers stranded and 22,000 employees redundant worldwide.
Thomas Cook Collapse Costs the UK Government 
The move also saw all bookings, flights and holidays with Thomas Cook cancelled, which sparked panic amongst travellers. AlixPartners LLP was named an adviser and will work with the government to bring customers back to the U.K.
However, with the UK government stepping in to help rescue the stranded tourists across the globe, they are urging travellers to stay calm as they have hired charter planes to bring thousands of free of charge over the next two weeks. They have also requested those on holiday to continue their vacation as the government has assured to foot the bill for both their return and their accommodation during this period.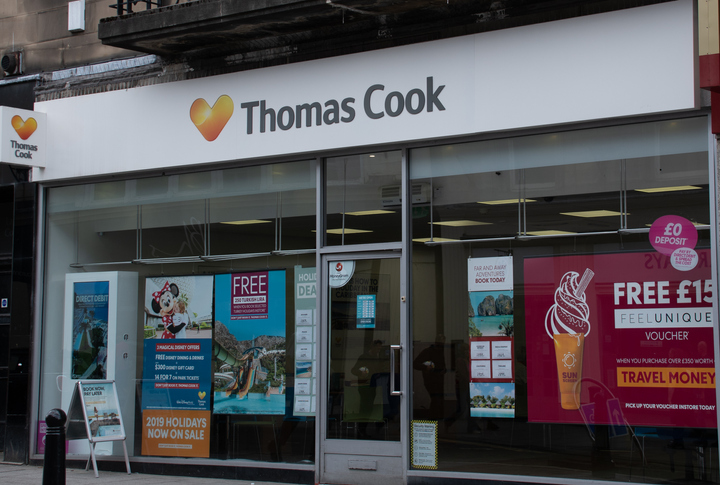 This rescue mission is estimated to make a dent of £75 million on the UK taxpayers pockets. It is also being called the country's "largest repatriation in peacetime history".
The collapse of Thomas Cook is perhaps one of the most high-profile casualties of the slow shift online of the travel sector and the rise of discount airlines that have squeezed profits from a highly seasonal industry.
In response to this, Thomas Cook India Limited (which was separately acquired by the Canada-based Fairfax Financial Holdings in 2012) released a statement saying that it was not affected by the collapse of Thomas Cook UK. The CMD Madhavan Menon said "Thomas Cook India Group has a strong financial position with cash and bank deposits at Rs 1,389 crore as on June 30, 2019".