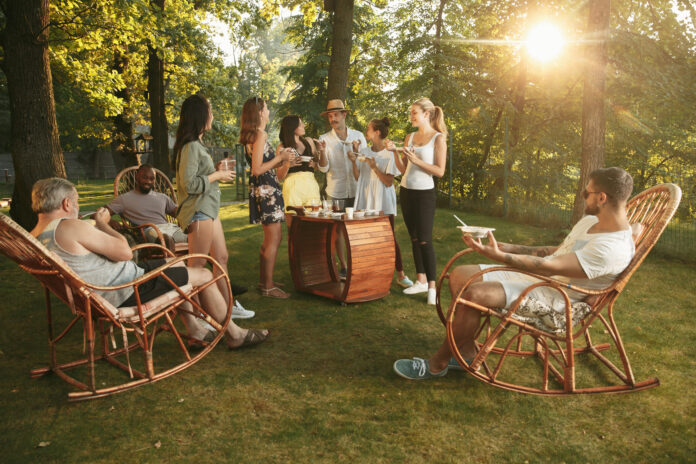 "A Staycation is having nothing to do and all day to do it in, at home."
International tourism makes up 10% of the Global GDP and the COVID-19 outbreak, evidently drove a significant wedge in the travel and tourism industry operations. While most businesses were focused on damage control, others were trying to find out new ways to sustain in the highly volatile market. The hospitality industry had many difficult decisions to make to help their businesses survive.
As a result of the pandemic, a general sense of paranoia had deeply seated itself in the hearts and minds of the travelers which made them reluctant to travel. With rising concerns about safety, security and hygiene, people were looking out for ways to relax and rejuvenate in the safety of their locale.
Domestic and international travels both took great hits in terms of numbers of travelers and tickets, revenues and tourism in general. While the world seemed to be at a standstill, and people unwilling to go step out of their comfort zones, a solution was needed that would help the industry grow anew and set the travelers' minds at ease.
That's when the concept of "Staycation" emerged as a savior.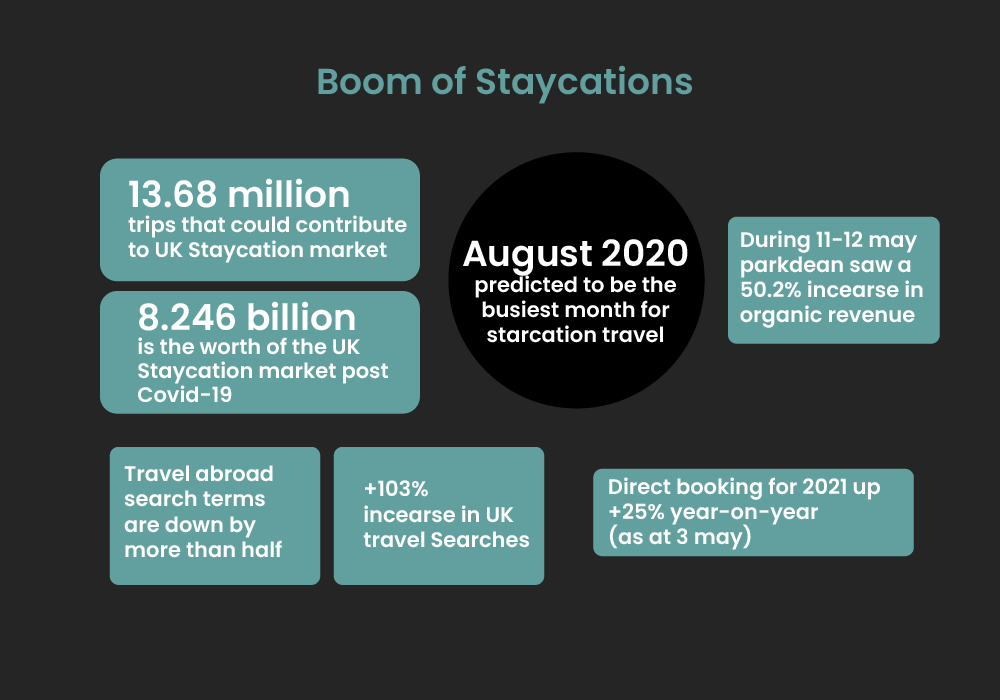 What is a Staycation
The now widely used, informal word came into being in the early 21st century by amalgamating the words 'Stay' and 'Vacation'. Staycation in the simplest of terms is a holiday that is spent in one's own country or locale rather than traveling to some far away or international location.
When going too far away from the safety and comfort of one's home, for holidays, getaways or vacations, starts feeling like an inconvenience or a bothersome idea, going to nearby places to have new experiences or simply to blow off steam, in essence is what a Staycation is about.
There are many different types and definitions of Staycation that have emerged through the years. While some would prefer calling, having a quiet time within the walls of their homes, a Staycation, others extend it to visiting local attractions or tourist locations within their city, state or country. Staycation by some is defined as a vacation that is spent at home, on the other hand, some call it spending their vacation time around their own country. 
In The UK
In the UK, all vacation trips as long as they are domestic can fall under the category of a Staycation. But the UK is relatively small in area hence the same definition cannot work for the people of the USA, given they have different time zones, cultures and climates.
While the ambiguity around it stays ripe, a Staycation has certain distinguishing characteristics like being work-free, including house chores, and having other fun activities to do. The concept works on one central theme, that vacationing or taking some time off is primarily about feeling relaxed, at ease, at peace and having new experiences, as close to home as possible, even if it means spending that time sprawled across the couch in the next room.
Admittedly, Staycation is not a relatively new concept and has existed for just around a couple of decades. But the havoc wreaked by COVID-19 brought it to the surface and the knowledge of everyone around the globe which ultimately led to a worldwide acceptance of the concept which has now gone on to become a trend.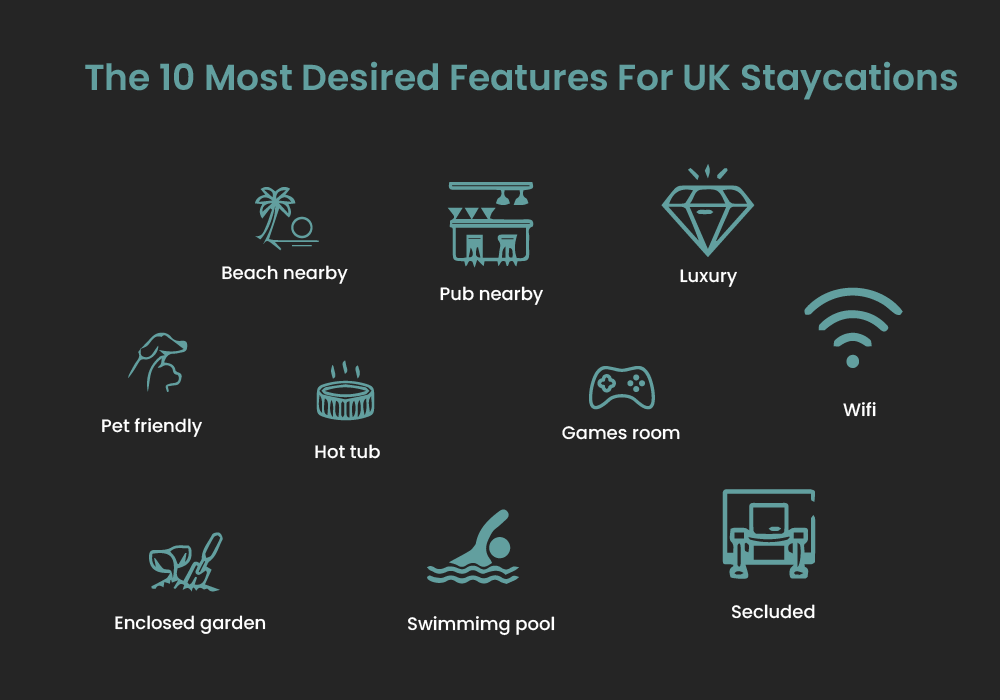 How to Staycation
As subjective as the definition of a Staycation is, there's a set of activities that are typical to the experience of vacationing. But they don't require a person to go too far away from home and hence can fall under the category of a Staycation.
A Staycation ranges from attending a coveted concert, event or festival, going for a hike or camping, visiting a beach nearby, staying at a countryside inn, staying in a local hotel and reveling in the luxury of a hotel stay without worrying to head out for sightseeing, taking a spa weekend, spending a day at a theme park, local sightseeing to  anything and everything worth exploring in the nearby or domestic locations. 
Why a Staycation
Going on a vacation to most people means exploring new places, relaxing and having a good time that is preferably not where they live or nearby. Tourism too by definition means moving from one's own place to another "holiday destination" while on the lookout for novel experiences. Therefore, there are a lot of questions around the premise of a Staycation and why people would wish to stay local during a location. Following are some of the reasons why: 
Financial Reasons
History has it, people travel and invest in tourism only when they have a considerable disposable income and when that wasn't the case during the several economic recessions our world has faced, there had been a serious spike in the number of people opting for Staycations and cutting back on international travel.
Hence, cost-effectiveness is one of the major benefits because of which Staycations are a huge hit. Because people go for holidays only when they can afford to do so. When people choose to travel somewhere local they automatically cut major travel costs like air fare, etc. Staycations too can cost a lot depending upon the kind of activities one indulges in. But there are many base costs that can be saved and contribute largely to having a budget-friendly vacation that doesn't compromise on experience and is close by. 
Pandemics or Safety Issues
When the world feels like a scary place like it did during COVID-19, people look for the comfort, safety and security of their homes, which might cause the travel and tourism industry to face the lowest of lows. That's when a Staycation can save the day, especially when travelers wish to steer clear of public transportation or public places or the public altogether. Staycations bring the vacation experience close to home without the hassle and risks involved with traveling.
Going For Local
With globalization and the world becoming a single marketplace for consumers and travelers alike, the most consumed goods and services have become omnipresent and international travel has become common. The local marketplaces and destinations sometimes are being left out of the equation.However, of late, there has been an increase in the number of people appreciating the importance of supporting local businesses and that has led to them wanting to spend more on local experiences. This has worked wonderfully towards furthering the culture of Staycation.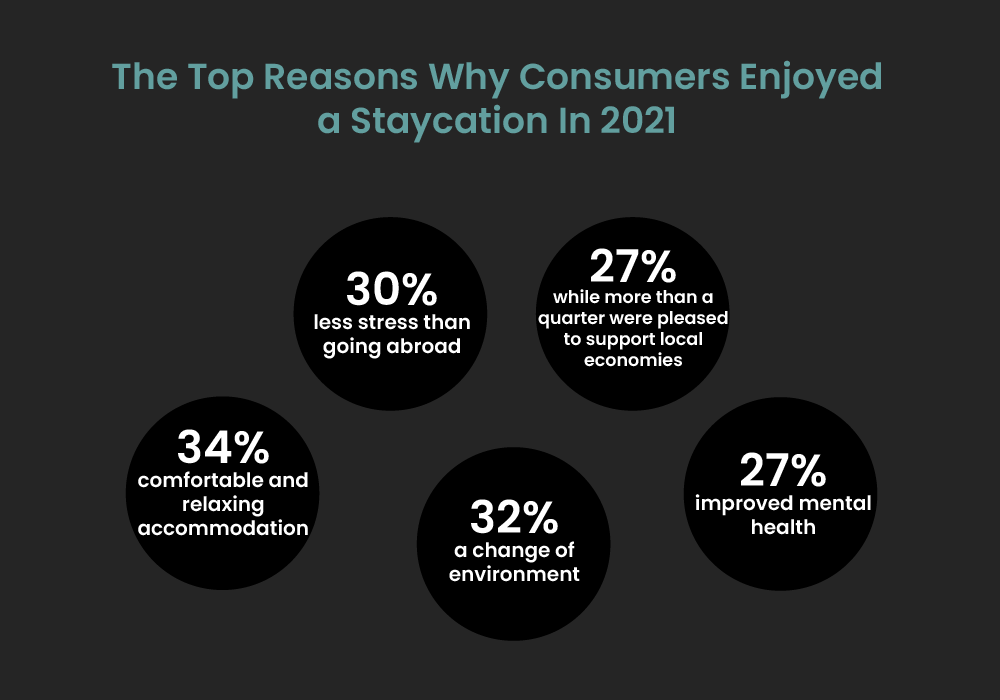 Staycation Facts and Findings
According to reports, people spend 15% of the funds of average households on vacations. Despite that when the Pandemic struck, the international travel industry took a huge hit, so much so that the Airline passenger traffic got slashed in half. The loss incurred by the tourism industry was estimated to be around $4.5 trillion USD.
Due to the various restrictions and the reluctance to go far away than needed for a vacation, the percentage of for-leisure travelers was somewhere between 20-30% only.
About half of the travelers are planning to vacation in their home country. In a survey of global travelers which was taken in 2021, half of the participants were planning a domestic holiday in the coming "12 months".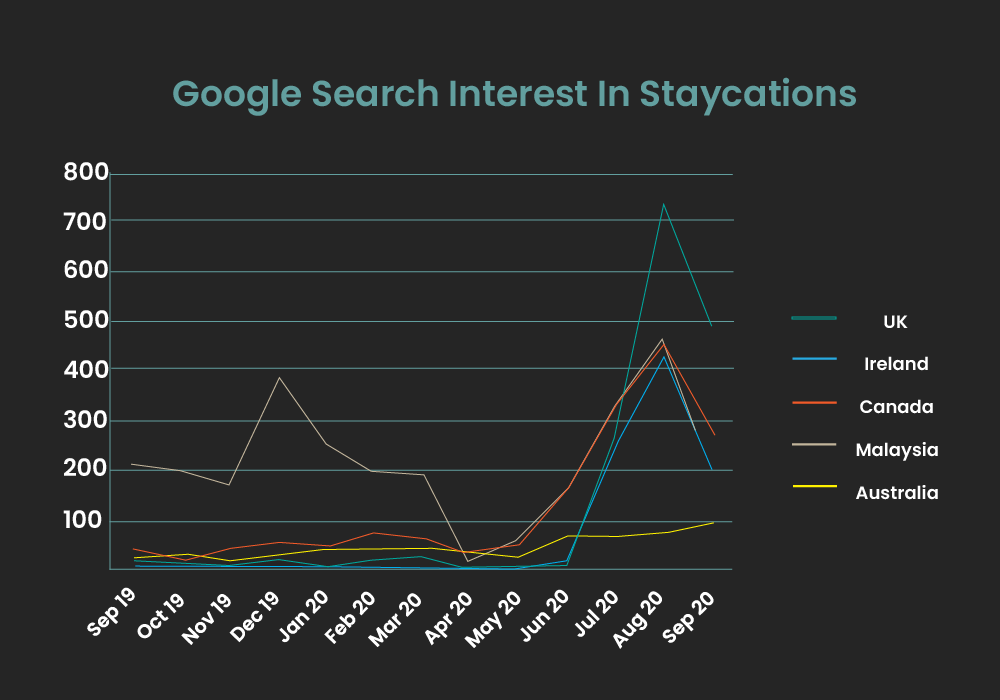 Some More Facts
A UK based survey shed some light on people's favorite Staycation memories and as regards why they chose a Staycation. 15% of the respondents stated their "UK holiday nostalgia" to be their reason for preferring a domestic holiday. A startling 36% of the respondents cited eating fish and chips on the beach as their favorite memory and 22% of the respondents said their favorite Staycation memory was building sandcastles.
In another survey when asked what were the top reasons the travelers/guests/consumers preferred a Staycation, a whopping 34% of the respondents said it was because of the comfortable and relaxing accommodation, 32% of the respondents stated that it was for a change of environment, 30% of the respondents preferred it because they felt it was less stressful than traveling abroad, 29% of them felt that the Staycation improved their mental health, and a solid 27% of the respondents went for a Staycation because they wanted to support the local economies.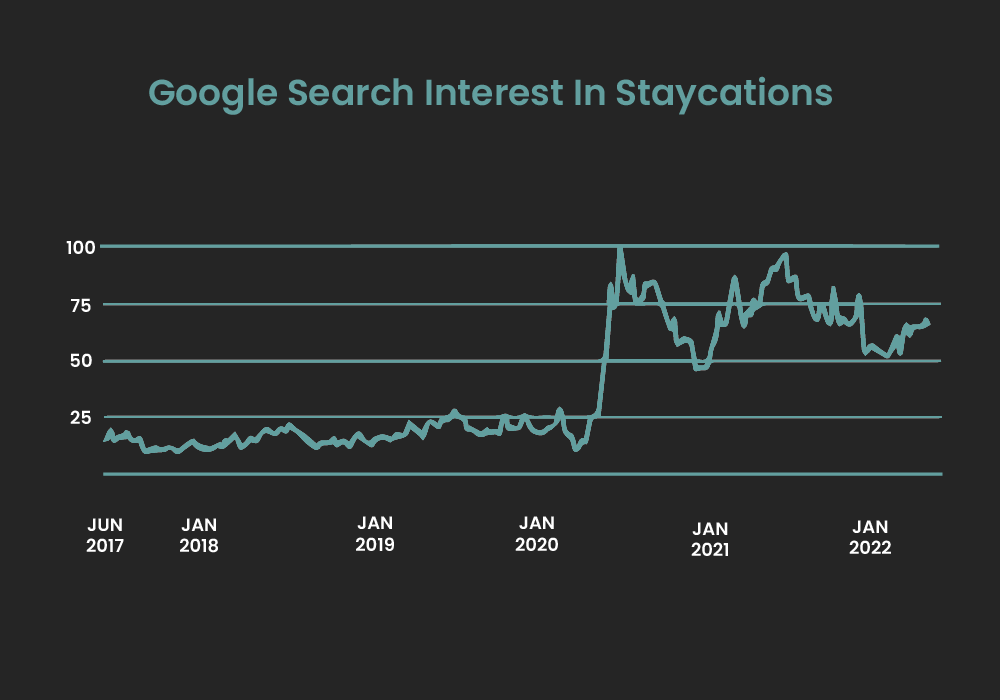 In a Nutshell
Staycations have helped travelers quench their thirst for exploration and new experiences without stepping out of their comfort zones. They have provided them with an opportunity to escape from their day-to-day monotonous routine and indulge in some self-care and relaxation while they are at it. This has especially done wonders for individuals working from home and in dire need of a vacation but no time to travel to a distant location.
Hotels and other hospitality businesses have capitalized on this and are now providing guests with more reasons to have Staycations on their properties. Fom swimming pools, spas, gymnasiums, wellness centers etc to the finest of restaurants with the best of chefs, hotels are providing a wide array of services on their premises. Hence, more and more guests are opting for Staycation packages as a part of their getaway plans.
There has been a serious shift in the vacationing habits of people. Considering restrictions, and a constant desire to be safe, secure and away from the risks of contamination, people are now more inclined towards going for mini vacations or weekend getaways than the traditional long holidays and COVID-19 has, if not entirely, contributed considerably to it.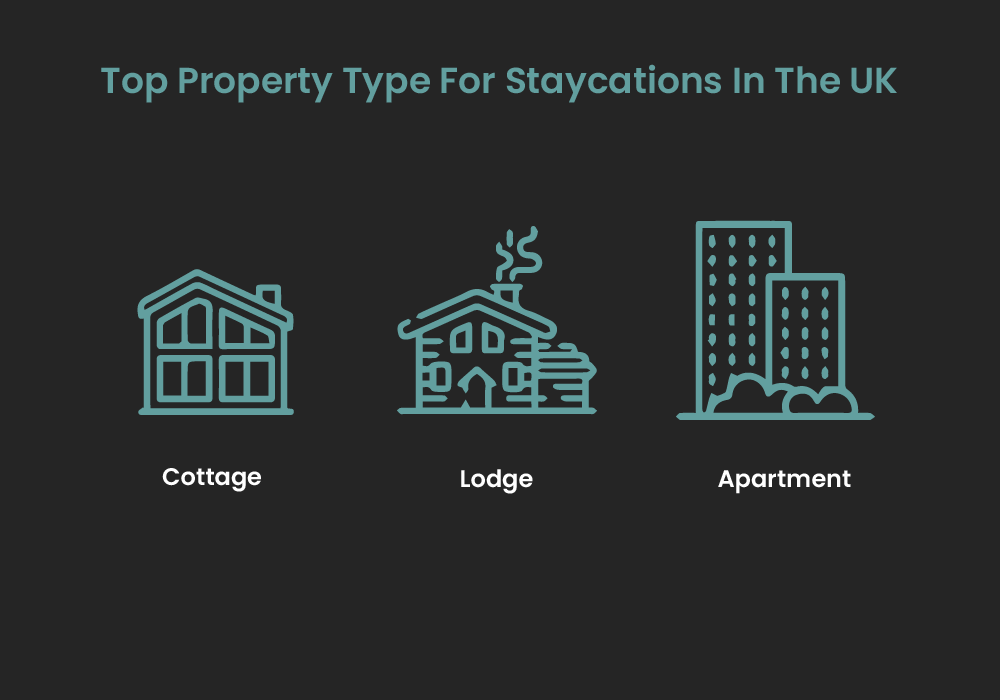 Other Related Reads You Might Like