Ever since COVID-19 changed the world forever, the result has been evident; a hike in what people conceive as the overall risk of contamination. Due to mass distress regarding travelers not wishing to travel or stay at hotels because of their fear of contracting the virus,the travel, tourism and hotel industry worldwide was at a forked road. They had to think of a way to retain their guests along with their sense of security and faith. Which, in turn, gave way to the acceptance of the now widely known concept of, "Contactless Services".
But what do these contactless services actually entail? Keep reading to know more!
What are Contactless Hospitality Services?
Contactless Hospitality Services ensure that there is zero human contact and if it's absolutely necessary, it's reduced to a minimal degree. Contactless Services render the requirement of human contact, needless or at most very minimal.
From the moment a guest enters the hotel premises to the second they check out, there are several interactions that take place, especially ones that traditionally would require human contact. Thanks to Contactless Services, all of these interactions can now be taken care of digitally, making sure that the guests have a safe, relaxed and seamless experience throughout their stay and at the tap of a button! Several buttons maybe!
The key to these services is to send the guests all the information they would need to access their rooms beforehand. This is customarily done via email, text or the guests' preferred medium. Some Contactless Service Systems need a mobile or web application to work while other fully contactless ones are furnished with smart locks and scanners.
How Contact 'Less' is the Contactless Experience?
Let's take the Contactless Guest Experience step by step!
Entry
Via the help of the automatic sliding doors, the guests can easily enter the hotel premises without getting in physical contact with anyone.
Contactless Check-In
Rather than going to the front desk and exchanging documents and information,they simply hold their phone (which has a dedicated QR code) to a scanner. Voila! They're checked in and now can head to their room. (the number of which along with other details, is now displayed on their device screen)
Well-known chains like Hilton, Hyatt and Marriott have already embraced the contactless check-in process.
Control Panels
Using the elevators seems like a place that can't really eliminate human "touch". While some hotels put toothpicks near their elevator entrances for guests to press the buttons with, a more effective way is to use sensors that can be configured into the elevator panel to sense when a finger is being hovered over a particular button. Another big-shot step is using facial recognition to take the guests to the floor of their choice.
Keyless Entry
Digital keys are not only eco-friendly but are also a way for the guests to have a more relaxed experience without having to worry about an actual physical key. Guests' cell phones can now be used as key cards. Only by tapping a button on their mobile screens, guests can open the doors to their respective rooms.
Voice Activated Services
From managing the temperature to controlling the lights to switching other devices in the room on and off, everything can be voice-activated to work as per the needs of the guests.
No-Touch Room Service
There is no need to pick up the phone and call for room service anymore. Gone are the days of sifting through menus. Simply connecting to the hotel app and ordering online is the way to go.
Robots To The Rescue
Once room service has been ordered or for instance a set of fresh towels, many hotels have Robots deliver the items to the guests' doorstep, completely eliminating human contact and hence reducing the risk of contamination by a long shot.
Digital Travel Guides
Unlike the days of brochures and travel packets, every travel and tourism-related information can be sent to the guests in a digital manner which can be personalized as per the guests' requirements.
Hotels That Offer Contactless Services
Major hotel industry giants like Hilton, Hyatt and Marriott have several contactless opportunities for their guests.
Hilton offers its hotel guests Mobile check-in and mobile key, check-in up to 24 hours before the actual check-in time the next day, freedom to choose their rooms from a digital floor plan before arriving at the hotel, digital keys to unlock the parking garage, fitness center, pool, lounge or other public areas of the hotel from the comfort of their mobile devices.
Hyatt with its special commitment to contactless care offers its guests mobile keys. Via the hotel app, guests can check in and check-out at, submit their housekeeping preferences, get details about the hotel, get digital room service and restaurant menus and receive and view bills.
Marriott Bonvoy offers its guests Mobile check-in and mobile key, Mobile check-in with a notification when the room is ready, quick details about the hotel amenities, attractions, transport and local dining, mobile keys for unlocking parking garages, lounge areas, fitness center, pool and other hotel areas and they also provide a Siri shortcut for iOS12 and above.
Contactless Services- Enhancing or Cutting BackThe Guest Experience?
While, having a contactless experience, definitely puts the guests at ease in terms of the risk of contamination and the reduced human interaction further ensures safety, some may say this has made the initially personal experience, quite 'robotic' as opposed to having the human connection.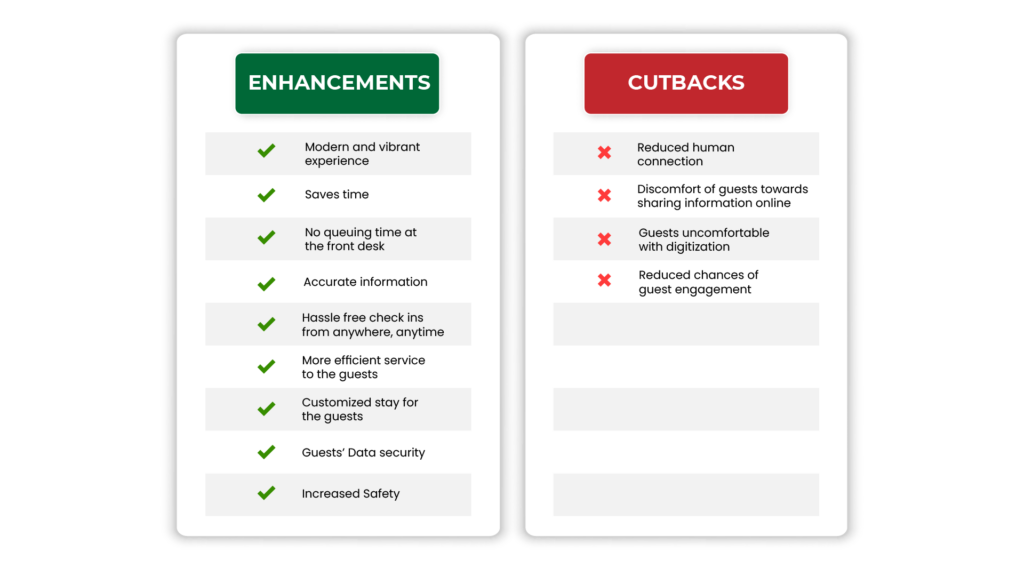 Enhancements:
Modern and vibrant experience
Saves time
No queuing time at the front desk
Accurate information
Hassle-free check ins from anywhere, anytime
More efficient service to the guests
Customized stay for the guests
Guests' Data security
Increased Safety
Cutbacks:
Reduced human connection
The discomfort of guests towards sharing information online
Guests uncomfortable with digitization
Reduced chances of guest engagement
Facts and Findings about The Contactless Guest Experience
In research, conducted by the well-known technology purveyor Criton, two surveys of over 7,000 travelers were done. It was found that 80% of hotel guests would rather download an app to help them get all the hotel-related information and enable them to check in and check out through their mobile devices.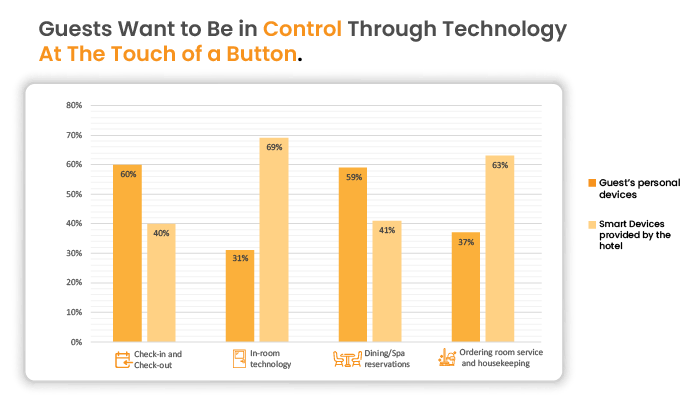 30% of travelers would prefer to check in and check out on a web page.
Only a startling 8% of the respondents would still want to check in and check out at a public kiosk.
73% of the respondents would prefer to download an app and use it to open the doors to their rooms.
Another research hinted toward a rising demand in guests wanting to avail the room services via online apps. 47% of the respondents said they would be more likely to order room service if they could place their orders via an online app. And 48% of them would even go to the hotel restaurant if they could use an app to order their food.
One survey of 525 hoteliers, which was conducted at the behest of a property management solutions provider, Stayntouch, on contactless check-ins and check outs, indicated that keyless check ins and checkouts are likely to rise by 31% in 2022 and have already experienced a hike of 45% during the pandemic. The rate of mobile key adoption was different for branded and non branded hotels. While 67.9% of the branded hotels are providing their guests with mobile keys, only a low percentage of 33.7% of independent hotels are offering it to their customers.
According to recent publishings, 70% of the millenials who participated in the research would be more inclined towards booking a hotel that has technologically advanced amenities and features in their hotel like keyless entry, smart tvs and/or mobile payments.
As per reports, smart devices if provided by the hotel is something a lot of guests would be interested in. 7 out of 10 hotel guests, which is a staggering 69%, would want to make use of smart devices, more than 3 out of 5 would want to order room service or housekeeping, and over 2 out of 5 would want to make dining or spa reservations, all via hotel-provided smart devices.
Contactless services have managed to employ technology effectively and in a way that makes the guest experience more flexible, personalized and better suited to the individual requirements of the guests.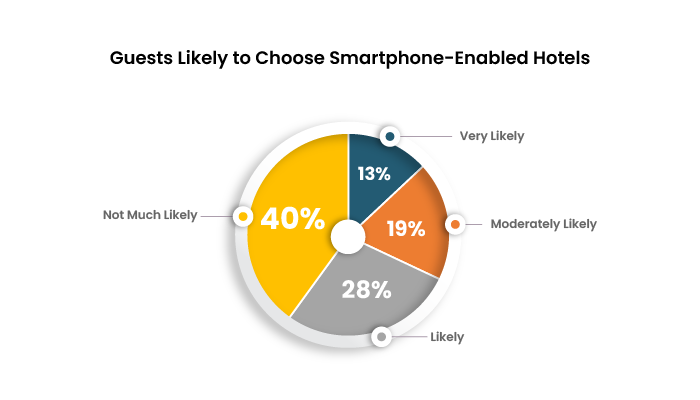 Even before COVID, a lot of guests were more inclined towards travel and hotel experiences that were convenient and more optimized. And what got added to the mix post COVID, was the need to be in an environment they could control. So much so, that according to reports, 73% of people traveling for business purposes would rather have mobile check-ins.
Contactless technology is transforming the hospitality industry in magnificent ways. It is helping reshape the traditional relationship between the hotel and its guests into a more flexible and relaxed one. Hotels are no longer just places where guests come to spend the night, they have become an experience worth having. From the dining spaces to the lobbies to co-working areas, the landscape is rapidly changing and contactless hospitality services have revolutionized the guest journey.