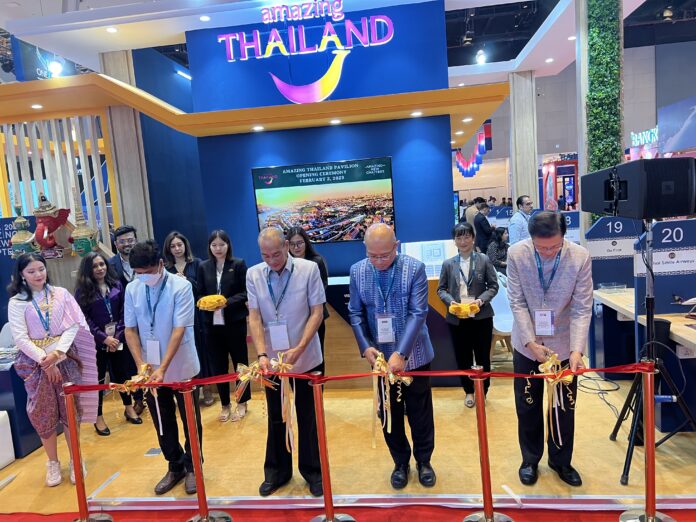 Mumbai, February 6, 2023: In a bid to promote Thailand as one of the most vivid and captivating tourist destinations, the Tourism Authority of Thailand (TAT) Mumbai Office successfully participated in OTM India 2023 – the biggest travel trade show in India.
Affirming the participation, Mr. Isada Saovaros, Director of Tourism Authority of Thailand (TAT) – Mumbai Office, said:
The tourism industry of Thailand is gradually moving back on track post-pandemic. With new and vivid tourist spots constantly being developed, Thailand hopes to welcome more and more tourists on board in the coming years. Through our participation in OTM India, we have been able to interact with travel partners and media converging from across the city and encourage them to promote Thailand on a much grander scale.
The TAT Mumbai interacted with over 500+ travel partners during the three-day event. The team discussed about new itineraries that showcased some of the best places to enjoy WATER SPORTS in Thailand, including the Similan Islands, Koh Samui, Koh Tao, Phuket, Pattaya, Phang Nga Bay, Khao Lak, and many other exotic locations. An absolute haven for water sports lovers, these locations in Thailand host a boundless variety of water sports and activities, such as scuba diving, kite and windsurfing, water skiing, wakeboarding, parasailing, kayaking, and much more, which have become popular points of attraction for tourists in the recent past.
A travel itinerary suggesting offbeat locations and seldom explored beauties in Thailand was also presented as a guide for tourists and travel junkies to explore the country more holistically and experience its rich diversity.
In conclusion, the event facilitated an invaluable platform for the Tourism Authority of Thailand to convey its future vision and position Thailand as one of the world's most versatile and invigorating tourist destinations.