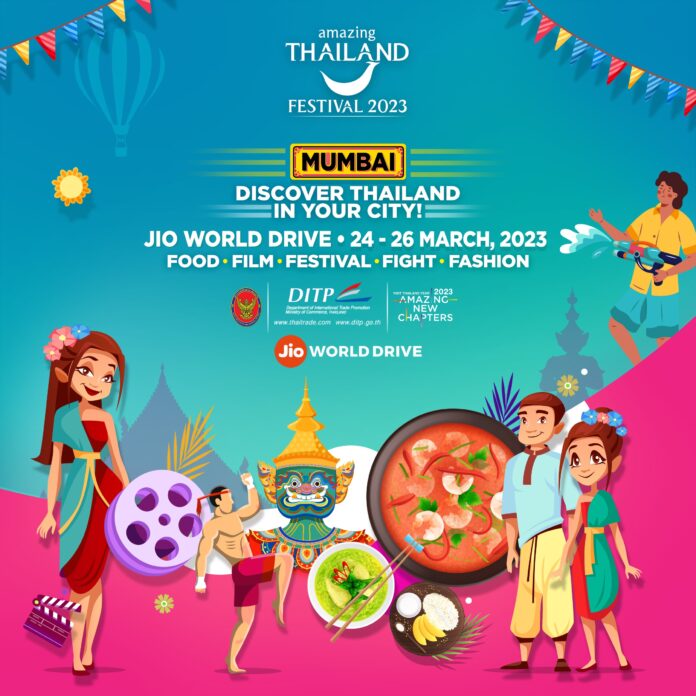 Scheduled from March 24 – 26 2023 at Jio World Drive – BKC, Mumbai, the Amazing Thailand Festival 2023 organized by the Tourism Authority of Thailand (TAT) Mumbai Office is strongly aimed towards increasing the brand awareness of Thailand in India and upscaling its tourist arrivals.
The three-day mega event will largely promote the 5 F's of Thailand,that is Food, Film, Fashion, Fight, and Festival. It will invite discerning tourists and potential trade partners from the length and breadth of Mumbai to get closely acquainted with its wide cultural variety, including its unique fashion, cuisine, artistry, and a whole lot more.
Mr. Isada Saovaros, Director of Tourism Authority of Thailand (TAT) – Mumbai Office, stated: "The people of India (Mumbai) have a special place for Thailand in their hearts. Thousands of Mumbaikars travel to Thailand every year to witness its unique culture, indulge themselves in the local cuisine, and explore its scenic wonders. We are elated to bring true 'Thainess' to them in Mumbai through the Amazing Thailand Festival 2023. We hope that this festival will help in demonstrating the abounding diversity and innate essence of the Thai culture and convince people to travel and experience Thailand in the coming months."
To strategically promote the festival and garner the attention of its target audience, the Tourism Authority of Thailand (TAT) Mumbai Office recently partnered with Uber India to tour its advertisement-bearing cabs across Mumbai.
With India being one of the top source markets for Thailand, 'Amazing Thailand Festival 2023' is poised to spotlight Thailand as the FIRST-CHOICE destination for Mumbaikars and significantly boost its brand awareness.
To know more visit https://www.tatnews.org/