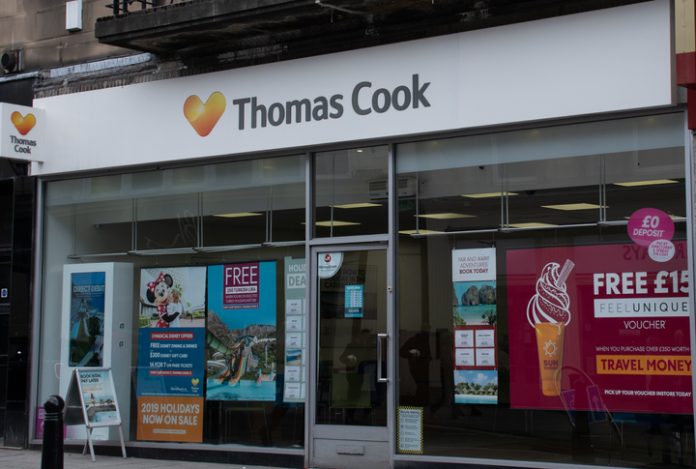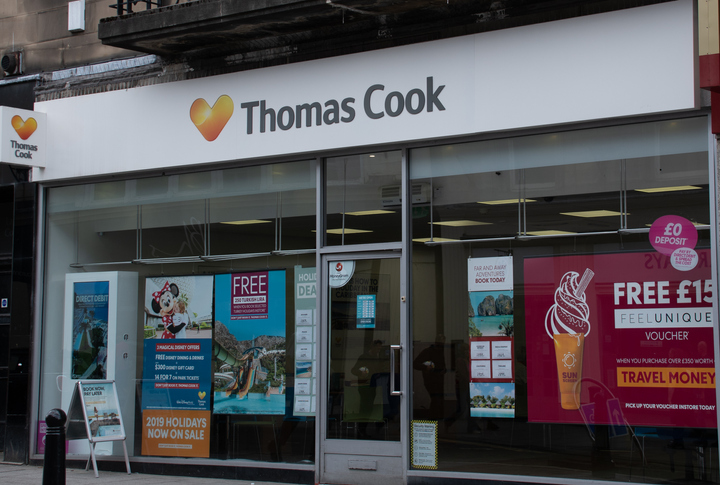 Highlights for FY23
The Group's Operating EBITDA grew significantly to Rs. 2.7 Bn for FY23 against a loss of Rs. 1.2 Bn in FY22. Growth driven by Foreign Exchange & Travel Businesses (Thomas Cook); Hospitality (Sterling Holidays)
Highest Operating EBITDA & Operating PBT for Thomas Cook in a decade. Operating EBITDA at Rs. 1.2 Bn for FY23; Operating PBT at Rs. 560 Mn Vs a loss of Rs. 1.14 Bn in FY22
Sterling Holidays registered Highest EBITDA & PBT since inception: EBITDA at Rs 1.1 Bn for FY23; PBT at Rs. 659 Mn Vs Rs. 436 Mn in FY22
Consolidated Total Income from Operations grew YoY by 163% in FY23 to Rs. 51 Bn
Robust growth across all business segments in FY23; Income from operations growth (YoY): Forex: 123%, Travel: 248%, Hospitality (Sterling Holidays): 36%, Digital Imaging Solutions (DEI): 72%
Focus on Cost Optimization saw annualized savings of Rs.3.71 Bn for FY23, representing a 20% reduction in costs Vs FY20 (Pre Pandemic). The Group maintains a strong financial position, with Cash & Bank balances of Rs. 10.1 Bn as of March 31, 2023
Highlights for Q4 FY23
The Group's Operating EBITDA at Rs. 518 Mn Vs Rs. 239 Mn in FY22
Standalone Operating EBITDA for TCIL at Rs. 205 Mn Vs Rs. 28 Mn for Q4 FY22
For Q4 FY23 Consolidated Total Income from Operations grew by 150% YoY to Rs. 13.2 Bn

Significant growth in Total Income from Operations across all Business segments in FY23

Travel Services
Leisure Travel: Sales growth of 235% YoY; recovery of 42% vs. pre pandemic levels
MICE: managed over 600 groups; 23 events for G20 Summit; 20,500 customers for Khelo India
Corporate Travel turnover grew by 213% YoY; acquired 57 accounts
Travel Corporation (India) Limited: Recovery of 53% in turnover for FY23 Vs pre pandemic
All overseas DMS units registered significant trading volumes for the year
Forex
Retail growth: 81% YoY; Recovery 97% Vs pre pandemic
Overseas Education: 162% YoY; 38% growth Vs pre pandemic
Enabled UPI transactions for foreign nationals from G20 nations in collaboration with Pine Labs & NPCI
New prepaid card issuance: up by 228% YoY; 29% Vs pre pandemic
Card loads grew by 172% YoY
Launched FX Now: Corporate booking tool and B2C mobile app
Hospitality (Sterling Holidays)
9th consecutive profitable quarter
Highest revenue recorded: Rs 3.6 Bn (36% growth Vs pre pandemic)
Annualised Growth Vs pre pandemic: 39% growth in ARR; 55% growth in F&B spend
FY23: 184 Rooms added; 6 Resorts
Guest ratio increased to 62% Vs 47% (pre pandemic), increasing topline growth
Digital Imaging Solutions (DEI)
FY23 saw the addition of 28 new partnerships
Renewal of 34 existing collaborations
Operational launch of 8 key projects and introduction of own B2C attraction
Commenced operations at 8 key attractions
Selected as imaging partner for Festive Events in the UAE
Mr. Madhavan Menon, Chairman and Managing Director, Thomas Cook (India) Limited said,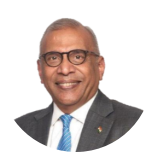 "I am delighted to share the strong results for FY23 for the Group, with a record Operating EBITDA at Rs. 2.7 Bn Vs a loss of Rs. 1.2 Bn in FY22. Total Income from Operations also grew annually by 163% in FY23 to Rs 51 Bn. This commendable performance, was led by Thomas Cook India – registering its highest Operating EBITDA & Operating PBT in a decade & Sterling Holidays – recording its highest EBITDA & PBT since the company's inception.
Our focus through the year has been on driving trading volumes, margin expansion, improved productivity via digital solutions and effective cost optimization measures to achieve this. Given the strong forward booking funnels, across business segments & geographies, we are confident of a strong performance in the coming quarters as well."
Business Segment-wise Performance: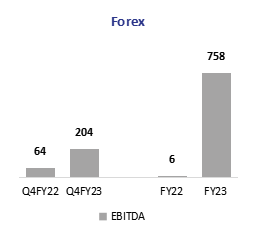 Foreign Exchange
Strong Retail growth: 81% YoY; recovery 97% Vs pre pandemic
Overseas education segment at 162% YoY; growth 38% Vs pre pandemic
On-boarded 572 new B2B partners for FX Mate in FY23
Launched FX Now – Corporate booking tool and B2C mobile app offering a suite of Foreign Exchange services to customers on the go
Enabled UPI transactions for foreign nationals from G20 nations in collaboration with Pine Labs and NPCI – at all airport counters and retail outlets pan India
New prepaid card issuance up by 228% YoY; growth of 29% Vs pre pandemi
Card loads grew by 172% YoY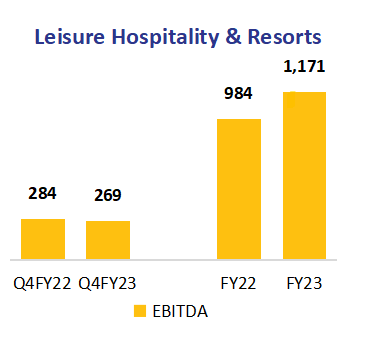 Hospitality (Sterling Holidays) 
9th consecutive profitable quarter
19% growth in EBITDA for FY23 Vs FY22; 6x growth Vs pre pandemic
On a YoY basis: 39% growth in ARR; 55% growth in F&B spends
Occupancy was at 58% for Q4 FY23
Guest ratio to members grew by 62% Vs 47% pre pandemic; 59% YoY giving an upside on revenues
Resort revenues increased by 70% Vs pre pandemic; 43% YoY
Expanded and scaled distribution of resort inventory and room rates using Sterling One platform that added significant volumes to existing business
New resorts launched in Q4 FY23: Chail and Haridwar
Accelerated focus on digitalisation: Sterling One platform for bookings on the go, Robotic automation tool, bots facilitating efficiencies at an operating level, Cloud based PMS
Travel Services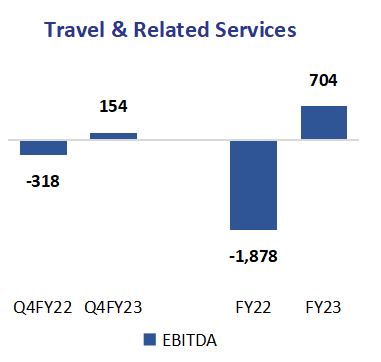 Corporate Travel
FY23: Travel turnover grew by 213% YoY; surpassing pre pandemic levels for the quarter
Acquisition of 57 new accounts across sectors like Engineering, IT/ITS, Manufacturing, Media-Entertainment, Telecommunications, Automobiles, Banking & Finance, Consulting, Oil & Gas, Infrastructure, etc.
Over 50% adoption by clients on the corporate self-booking tool
Meetings-Incentives-Conferences-Exhibitions (MICE)
FY23: Significant growth of 711% YoY; 85% recovery Vs pre pandemic
Managed over 600 groups – including sizeable movements of between 100 to 3000 delegates
Empaneled as event partner for the G20 Summit; 23 events managed across 20 cities
Handled 20,500 customers for Khelo India 2023; managed Digital Yoga Exhibition for Govt. of India; event for ground breaking ceremony for world's first World Health Organization (WHO) Global Centre for Traditional Medicine
Sporting Events: multiple corporate groups for T20 World Cup and FIFA World Cup 2022
Several Inbound groups and event in NCR and Mumbai – 6700 delegates from over 130 countries
Leisure Travel
FY23: Marked improvement in sales with 235% YoY growth; recovery of 42% Vs pre pandemic levels
Launched new chatbot backed by ChatGPT
Readymade Holidays designed for new age travellers seeking experiences, with immediate end-to-end fulfillment
With the fall in average age of customers, launched a new campaign focusing on Gen Z
Strong focus on Domestic Tourism – including spiritual tourism, outdoor-adventure trips, etc.
Introduced Easy Visa Holidays to short haul outbound destinations to counter visa challenges for long haul
Introduced new destinations like Greenland, Vietnam, Iceland, etc.
Destination Management Services Network
India – Travel Corporation (India) Limited: Recovery of 53% in turnover for FY23 Vs pre pandemic. The top 5 markets for the quarter were UK, France, Russia, Germany and USA contributing 61% of the overall business
Forward pipeline is robust with the expectation of surpassing pre pandemic levels in FY24
Sita's 60th anniversary celebrated across the office network with the launch of Travart (new digital future ready platform) on March 23, 2023
Middle East – Desert Adventures saw significantly higher volumes during the year as compared to previous year primarily driven by CIS countries, OTA business, LATAM and India markets. MICE has also shown healthy volumes during the year
Private Safaris:

East Africa – Healthy sales throughout the year supported by good volumes from traditional markets such as Germany, US, UK, France. Decent volumes were also seen from France, Romania and India. Due to strong financial performance, the entity repaid the entire outstanding balance of its parent loans which were taken for supporting operations during the pandemic

South Africa – Key European markets saw volumes gradually increase during the year which resulted in significantly better performance as compared to previous year

USA – Allied TPro: Volumes during the year were driven by European market and FIT. Entered into a 50:50 joint venture agreement with New World Travel, Inc. in December quarter. The new JV company, Allied New World, was set up to leverage the strengths of both companies to drive productivity and accelerate growth in the post pandemic era
Asia Pacific – Asian Trails: Sales saw an uptick during the year due to re-opening of key destinations viz. Thailand, Indonesia, Vietnam, Malaysia, Singapore and Cambodia. Gradual increase in sales has resulted in a decent recovery from pre pandemic level especially in last quarter
Digital Imaging Solutions (DEI)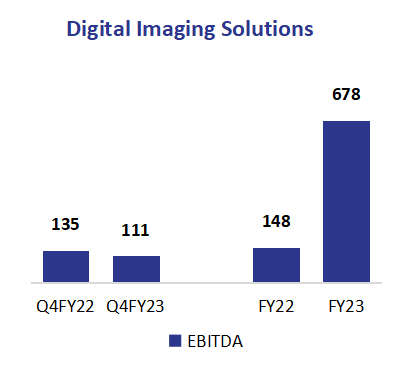 During the year, DEI signed 28 new agreements across various geographies viz. Middle East, India, USA, South East Asia etc. Notable new partnerships were Snow Oman, Sheikh Zayed Grand Mosque, LEGOLAND Malaysia, Trans Snow World Surabaya in Indonesia, Snow Kingdom Hyderabad in India, Museum of Science & Industry, Chicago USA, etc.
Key partnership renewals were Mandai Wildlife Reserve in Singapore, Mövenpick Resort Kuredhivaru in the Maldives and Wild Wadi Waterpark, UAE
DEI was the imaging partner for many festive events in UAE, noteworthy being Dubai Festive City Market, Souq Madinat Festive Market, Caesar's Palace Christmas Brunch, Jumeirah Beach Hotel Christmas Brunch, Atlantis Dubai New Year's Eve Gala, Madinat Jumeirah's New Year's Eve Gala, Jumeirah Beach Hotel New Year's Eve Gala and Burj Al Arab New Year's Eve Gala
In a notable milestone, DEI has launched its first-ever B2C attraction – The Dubai Balloon
Other Key Business Updates
Focus on Digitalization
The Group's Digital First strategy saw sustained momentum during Q4 FY23
Launched the pioneering Green Carpet initiative in association with LTI Mindtree: a global platform to help enterprises manage business travel emissions
Launch of FX Now, a new gen corporate booking tool and a dedicated B2C mobile-app that offers a suite of Foreign Exchange services on the go. Empowers customers with convenient, customizable and contactless end-to-end foreign exchange solutions
Integration of the Group's DMS companies (Asian Trails and Desert Adventures) on thomascook.in; real-time updates via live feed will enable customers to avail best pricing for hotels in the Middle East and South East Asian destinations
Chatbot functionality has been enhanced to ensure seamless sales process- with a Plan Your Holiday for both Domestic & International trips. Increased usage of 70% MoM
Strong focus in FY23 saw delivery across business lines:
Launch of automated systems for MICE: sales operation application- "MANTRA" and vendor management – NEWGEN
Launch of innovative Live Video Connect platform via the Companies' holiday campaigns – where customers can seamlessly connect with holiday experts via a video call/chat, without having to download any added apps or software
Introduced Holiday Mate – an online B2B tool to empower travel agent partners to deliver swift, seamless and accurate services to the end consumer
Enhanced self-service features for holiday bookings on the website and Mobile App  
India Network Expansion
Leisure Travel: 26 franchise outlets opened in New Delhi, Karnataka, Hyderabad, Goa, Gujarat, Maharashtra, Kolkata, Punjab, Tamil Nadu, Uttar Pradesh and an owned branch in Mumbai
Foreign Exchange: Franchise outlet opened in Agra; new counter inaugurated at Delhi International Airport; Cochin International Airport agreement extended for 5 years
For Q4 FY23
Thomas Cook India partnered with Pine Labs to enable UPI payments for foreign nationals from G20 nations
Thomas Cook India & SOTC Travel partnered with LTIMindtree to launch 'Green Carpet' – a global platform for Enterprises to monitor & manage business travel emissions
Thomas Cook & SOTC's partnership with Vistara Getaways was extended to include Club Vistara Frequent Flyer Program benefits
Thomas Cook India & SOTC Travel won Best Outbound & Domestic Tour Operator of the Year Awards at SATTE 2023
SOTC Travel won Best Outbound Travel Operator and Best MICE Travel Operator at The Economic Times Travel & Tourism Annual Awards
FY23
Thomas Cook India inked a long-term agreement with KrisFlyer – the loyalty programme of Singapore Airlines for its Forex business
Thomas Cook India & SOTC signed an agreement with Turkiye Tourism to boost demand and visitations for the destination
Thomas Cook India & SOTC extended their exclusive partnership with Vistara to launch Vistara Getaways – International
Thomas Cook India, Mastercard & HDFC Bank collaborated for offers on S. E. Asia Holidays
Thomas Cook India Group won the CNBC-ICICI Lombard Risk Management Award for the 5th time
Thomas Cook India & SOTC inked an MOU with Saudi Tourism Authority
Thomas Cook India sustained its strategic partnership with Maldives Marketing and Public Relations Corporation (MMPRC)