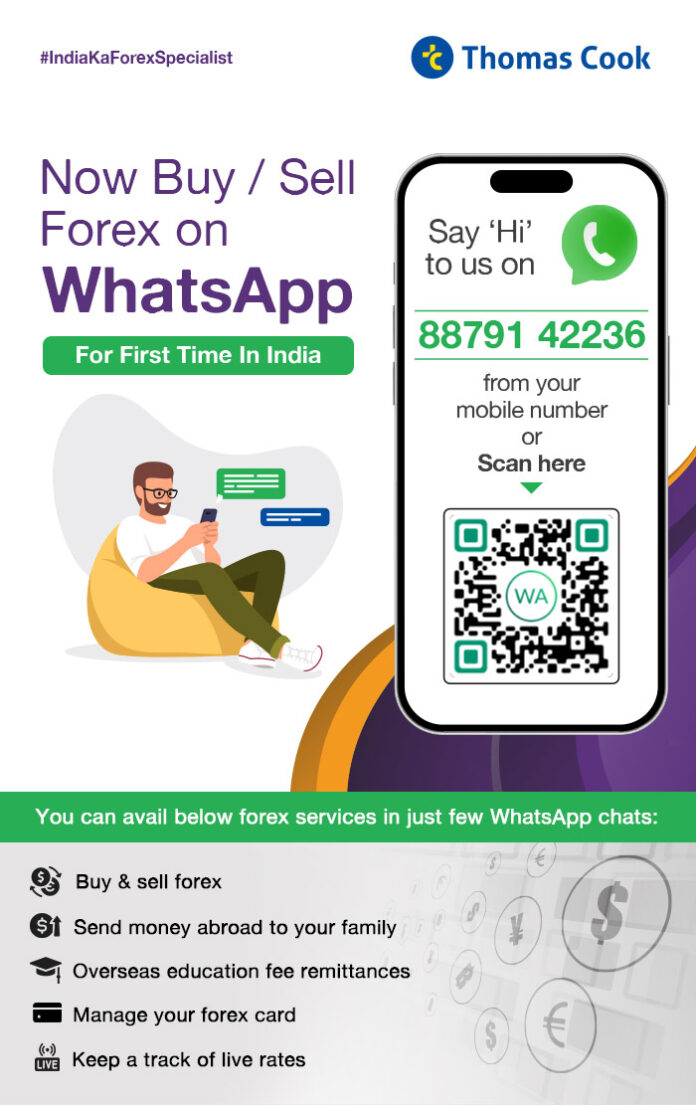 First Company in India to offer end-to-end Foreign Exchange Services using the popular platform to offer customers a seamless user interface
Aimed at on-the-go, anywhere-anytime solutions for its rapidly evolving new-age customers, Thomas Cook (India) Limited, India's leading foreign exchange service provider, has launched end-to-end forex transactions using WhatsApp. This industry-first initiative is very simple to use – customers simply need to add Thomas Cook Forex as a Whatsapp contact by adding +918879142236 as they would any other contact. Once this is done, the customer will be connected directly to an AI-enabled chatbot for prompt, 24×7 access from anywhere.
Forex via Whatsapp will enable customers to view live rates, buy and sell forex, send money abroad to their family or for overseas education fee remittances and manage their transactions – both from the comfort of their home, and while travelling overseas. Together with Thomas Cook's Ghar pe Forex commitment of doorstep delivery in 2 hours anywhere in the country, Forex via Whatsapp ensures a simple, swift and seamless customer experience – reinforcing the brand's India Ka Forex Specialist position.
Forex via Whatsapp also offers Thomas Cook Prepaid Card customers a familiar, quick and efficient solution to manage their FX card: from reloads, checking balances, downloading statements, setting/resetting of pin, enable/disable channel, block/unblock card, etc.
Advantages of Thomas Cook's Forex via WhatsApp:
Easy Booking of forex services; option to select online/retail channel (nearest Thomas Cook outlet)
Convenience of WhatsApp to buy/sell Forex (Cash/Forex Card), reload forex card, send money abroad, student fee remittance and managing pre-paid forex cards
Management of pre-paid forex cards on-the-go with simple steps for pin reset, checking balance and statement
Secure payment options – embedded within WhatsApp
User friendly and interactive user interface (UI)
Track live forex rates through WhatsApp
Thomas Cook's strategic omnichannel model ensures customer both choice and convenience with access to India's largest forex network of over 4000 touchpoints: An extensive retail footprint of owned/partner outlets and airport counters; its Online Forex Store, Virtual Forex Branch, Contact Centre, m-app FX Now and FX Mate an innovative B2B partner platform. The Company's game-changer Ghar pe Forex commitment offers doorstep delivery with 2 Hours.
Thomas Cook is the largest non-bank foreign exchange services provider and prepaid card issuer in India. The Company's cashless portfolio features its multicurrency Borderless prepaid card and its innovative Study Buddy Card focused on the overseas education segment.
Mr. Deepesh Varma, Executive Vice-President – Foreign Exchange, Thomas Cook (India) Limited said "Our Forex Team at Thomas Cook India has consistently demonstrated innovation, agility and digital astuteness towards elevating our customer experience. Our latest launch of "Forex via WhatsApp" is yet another first mover that ensures speed, simplicity and seamless transactions on-the-go; thereby reiterating our position as #IndiaKaForexSpecialist!
This industry-first initiative will enable our customers access end-to-end forex services anytime and anywhere: view live rates, buy and sell forex, manage their prepaid forex cards on-tour, send money abroad to their family, and more, via WhatsApp.
Forex is a key business line for the Company and our accelerated digital first strategy aims at empowering our customers across not just India's metros/ mini metros, but equally, Regional Bharat's Tier 2-4 source markets."