Stylish and convenient accommodation option for Business and Leisure Travellers in Bangalore.
All India, 5th April 2023: Spree Hospitality, a leading hospitality company with a portfolio of hotels and resorts across India, has announced the launch of its latest property Zip by Spree Hotels Purple Orchid. This 4-star property is located near Hope Farm, Whitefield in Bangalore. The property's doors will open to guests on April 25th, 2023. This is Spree Hospitality's fifth property in Bangalore. The upcoming property is set to become the ultimate destination for business and leisure travellers looking for stylish accommodation options in Bangalore.
As part of EaseMyTrip, Spree Hospitality provides unbeatable service, comfort, and style. Spree Hospitality currently operates 30 plus properties across India in the hotel, club and guesthouse industry and more than 7 hotels will be launched this quarter.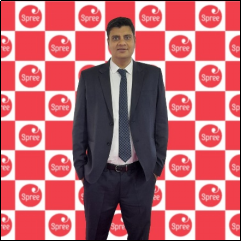 Expressing happiness on the latest addition to the portfolio, Vice President of Spree Hospitality Mr. Sagar Khurana said "We are excited to offer a unique and luxurious experience to our guests at our upcoming hotel in Bangalore. Our goal is to provide affordable yet high quality accommodation to travellers in key locations across India. We are confident that our hotel will become a sought-after destination for business and leisure travellers alike due to its state-of-the-art amenities, impeccable service, and prime location. As we welcome guests from around the world to Bangalore, we look forward to providing them with the best experience possible."
Featuring 60 spacious rooms, Zip by Spree Hotels Purple Orchid offers a modern-looking interior that is designed to make guests feel comfortable and relaxed.
Hotel guests can enjoy both local and international cuisine at the hotel's in-house restaurant, which features elegant décor and cozy ambiance.
Zip by Spree Hotels Purple Orchid offers guests a well-equipped fitness center as well as a spa offering various treatments and therapies designed to rejuvenate and refresh them.
Corporate meetings, conferences, and other events can be held in the property's well-equipped banquet hall that can accommodate up to 100 guests.
With the launch of this new hotel, the property looks forward to setting new standards of luxury for its guests.