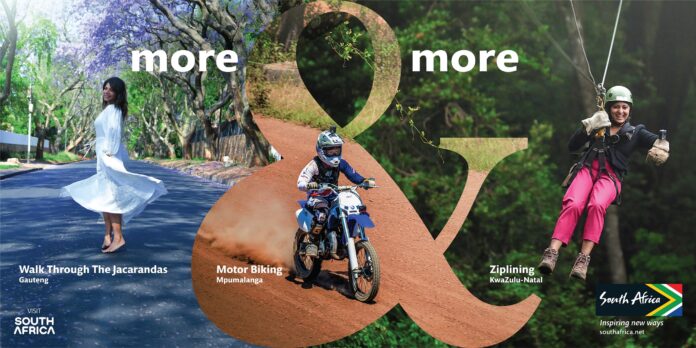 ~ A first of its kind initiative featuring local Indian influencers experiencing unexplored destinations in Gauteng, Mpumalanga and KwaZulu-Natal ~
Mumbai, 20th January 2023: After witnessing immense success in the initial phase of the 'More & More' campaign, South African Tourism is back with its second leg. For the first time ever, the tourism board has roped in Indian influencers Radhika Sharma and Ankita Kumar to highlight the diversity of experiences that South Africa has to offer Indian travellers. In line with its sustained recovery efforts and commitment to engage with the Indian market through desi or localized content, 'More & More' will roll out PAN India on 25th January 2023. The campaign will be divided into two phases – awareness and conversion and will be live across all social media platforms like Instagram, Facebook, Twitter and YouTube. Ads will also be seen across billboards in 8 cities namely Mumbai, Delhi, Ahmedabad, Surat, Kolkata, Hyderabad, Chennai and Kochi.
The initial phase of the 'More & More' campaign launched in Q1 of 2022 played a vital role in the destination surpassing its annual targets by attracting 33,900 plus Indian travellers to South Africa. For the second phase of the 'More & More' campaign, Indian influencers Radhika Sharma & Ankita Kumar embarked on a 15-day long journey discovering hidden gems in the provinces of Gauteng, Mpumalanga and KwaZulu-Natal. Inspired by the success of the first edition of the campaign, South African Tourism continues to showcase and celebrate the country's off-beat destinations through the eyes of Indian travellers to inspire more Indians to visit South Africa. From 3,000+ adventure activities to exciting culinary experiences and more, the Rainbow nation overflows with exhilarating encounters tailored to every traveler's unique need and preferences. 'More & More' builds on the emotion and spirit of adventure, and the next phase will focus on covering other provinces of Northern Cape, Western Cape, Eastern Cape, Free State, Limpopo and North West.
Reflecting on the demand for offbeat experiences, especially by millennial and Gen Z travellers, South African Tourism is packaging and selling itineraries celebrating new, relatively unexplored regions. Efforts across consumer and trade are now strategically crafted to celebrate regions like Port Elizabeth, Robertson, West Coast, Drakensberg in KwaZulu-Natal, Panorama Route (Mpumalanga) and Garden Route while using the popular cities of Cape Town, Johannesburg and Durban as anchor entry/exit points.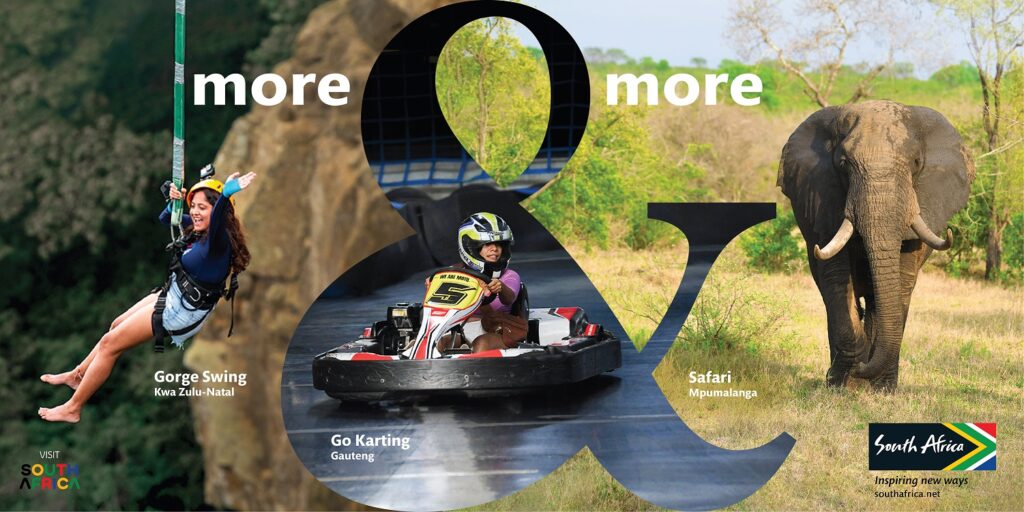 South African Tourism, Hub Head – Middle East, India and South-East Asia, Ms. Neliswa Nkani stated, "I have always believed that to appeal to an audience base, we need to engage with them via voices that they relate to. South African Tourism is excited to finally be able to bring alive a collaboration concept that features Indian faces experiencing and celebrating the beauty and diversity of destination South Africa. The country has a lot to offer to every traveler segment, especially those who are eager to go beyond the confines of the ordinary and explore hidden gems. It is heartening to see our efforts to localize and strengthen our offerings through the eyes of these digital influencers come alive."
"As we move forward with our recovery efforts in-market, we will continue working closely with our trade partners in India and South Africa to highlight newer regions, maintain growth momentum and collaborative progress.", she continued.
India, the 6th largest international market for South African Tourism continues to be a major priority with the tourism board elevating engagement efforts in the coming months to tap into the summer travel season. India holds considerable growth promise especially given that Indian travellers are the largest international consumers of adventure in South Africa. At present, several stop-over flights fly from India to South Africa, including Emirates, Qatar Airways, Ethiopian Airlines, Kenya Airways and Air Seychelles.