The San Francisco International Airport (SFO) announced that Harvey Milk Terminal 1 has been honored by the American Institute of Architects, California. In their 2022 Design Awards, Harvey Milk Terminal 1 received the Climate Action Award for leadership in the development of energy, carbon, water and resource-related practices and policies.
"Harvey Milk Terminal 1 embraces the very best values of our region and celebrates the legacy of pioneering civil rights leader Harvey Milk," said Airport Director Ivar C. Satero. "It also showcases another value of our region – a commitment to the environment – with groundbreaking sustainability features that lead the way for the future of airport design. We are truly honored to receive the Climate Action Award from the American Institute of Architects in California. My thanks go out to the entire project team for this achievement."
Sustainable design and construction measures were prioritized at every stage of the project, resulting in the implementation of more than a significant number of sustainable practices. Highlights include:
· A tote-based Independent Carrier System (ICS) to manage checked baggage, the first in the U.S., which uses 50% less energy and is easier to operate and maintain than previous systems
· Self-energizing (regenerative) elevators recycle energy, rather than wasting it as heat
· Go-Slow escalators and moving walkways that reduce speed when not in use to save energy
· Radiant heating and cooling to complement displacement ventilation to provide energy efficiency, improved indoor air quality, and enhanced passenger comfort
· Dynamic glazed windows that change with the sun's location, to reduce glare and improve comfort
· Large windows harnessing daylight to reduce the need for electric lighting
· Controllable, dimmable, long-life light emitting diode (LED) fixtures throughout the facility
· Low-flow, hands-free bathroom fixtures and faucets save water in our drought-prone state
· Roof-mounted photovoltaic panels, providing renewable power for the facility
· Highly efficient outdoor air filtration system to remove pollutants and odor to provide healthier indoor environments with minimal efficiency impacts
· Building materials and furnishings with low volatile organic compound (VOC) emissions
· Selection of products, systems and materials with the least environmental or planetary impact based upon Health Product Declarations (HPDs) and Environmental Product Declarations (EPDs)
· Integrated Building Management System measures energy and water use and adjusts equipment to be more efficient
· Seamless access to all facilities, including public transit, via the AirTrain electric people mover, which eliminated over 600,000 miles of bus trips annually
· Recycling and diversion of approximately 95% of construction waste from landfill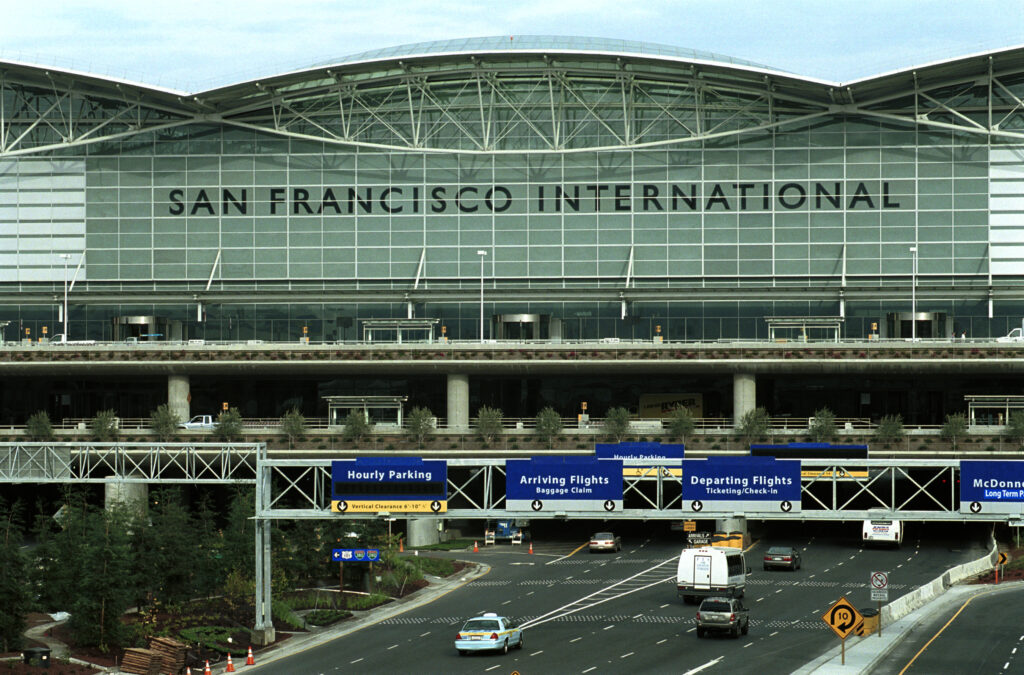 In February 2022, Harvey Milk Terminal 1 has become the first airport terminal in the world to earn "Platinum" certification using the latest standards from the Leadership in Energy and Environmental Design (LEED) program developed by the U.S. Green Building Council. This latest version, known as LEED v4, raises the bar for the design, construction, and operation of high-performance structures.
In March 2021, Harvey Milk Terminal 1 became the first terminal in the world to achieve certification from Fitwel, a building rating system that provides guidelines on how to design and operate healthier buildings.
The construction of Harvey Milk Terminal 1 is divided into two projects: Boarding Area B (BAB) and Terminal 1 Center (T1C).
Design-build, construction, and project management teams are as follows:
· BAB Design-builder: Austin Commercial & Webcor Builders Joint Venture with HKS / Woods Bagot ED2 International / KYA
· BAB Construction Manager: WSP / AGS
· T1C Design-builder: Hensel Phelps with Gensler / Kuth Ranieri
· T1C Construction Manager: AECOM & Cooper Pugeda Management Joint Venture
For more information about Harvey Milk Terminal 1, please visit: www.flysfo.com/T1.