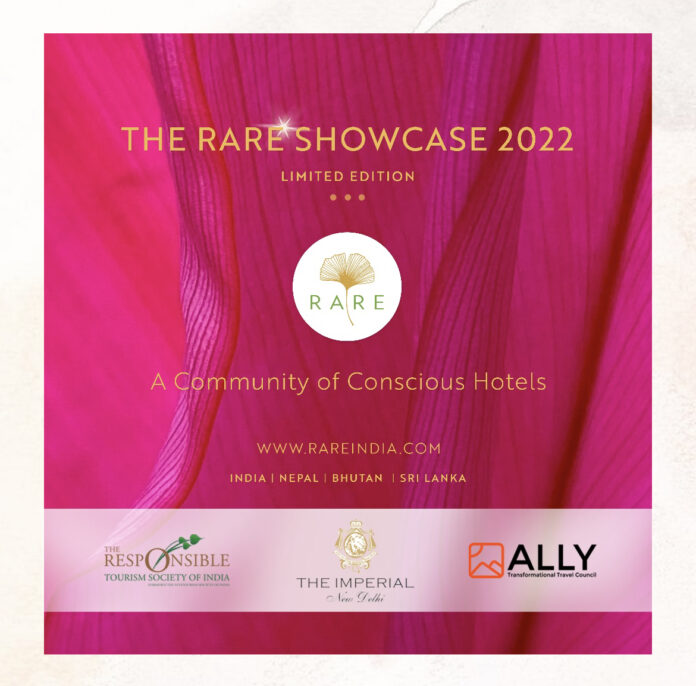 Gurugram, April 1, 2022: RARE India, which is a community of some of the finest conscious luxury boutique hotels, palace stays, wildlife lodges, homestays and retreats in the Indian subcontinent, will be hosting the fifth edition of its signature event 'The RARE Showcase' at The Imperial in New Delhi on 6th and 7th April. The event will be held in a Limited Edition format with an aim to aid the revival of inbound travel by getting the RARE Community and the travel agent fraternity to meet for discussions about destinations, sustainability, routing ideas and lessons from the pandemic.
30 of the 100 privately-owned, stand-aloneRARE Community partner hospitality brands will participate in The RARE Showcase 2022 to create awareness about sustainable and slow travel that places a great emphasis on community engagement and strives to preserve and protect the planet – something that RARE has always held sacred.
Sharing her thoughts on the upcoming event, Shoba Mohan, Founder, RARE India, said,
Though video conferencing and Zoom rooms helped us in the pandemic and built us stronger, personal contact, conversations and that one-on-one time together is what creates relationships and hence magic. As some of our oldest hotels and newest members gather together, it's time to prepare for what may yet be travel's best years, aware, mindful, transformational and a force for change.
The properties that will participate in The RARE Showcase 2022 include Glenburn Tea Estate (Darjeeling), Glenburn Penthouse (Kolkata), Neeleshwar Hermitage (Kerala), Lotus Houseboat (Kerala), Qayaam Gah (Kashmir), Sukoon Houseboat (Kashmir), The Sarai at Toria (Near Khajuraho), Jamtara Wilderness Camp (Pench), Premkunj (Udaipur), Ramathra Fort (Karauli), Manvar Luxury Camp (near Jodhpur), Chanoud Garh (District Pali), Bera Safari Lodge (Jawai), Wild Mahseer (Balipara), Haveli Dharampura (Delhi), Khem Villas (Ranthambore), Grand Hotel D'Europe (Pondicherry), The Belgadia Palace (Mayurbhanj), Windermere Estate (Munnar), The Lodge at Wah (Palampur), Mihir Garh (near Jodhpur), Bijaipur Horse Safaris (Bijaipur), Ging Tea House (Darjeeling), Bari Kothi (Murshidabad), The Rajbari Bawali (West Bengal), Kipling Camp (Kanha), Jim's Jungle Retreat (Corbett), Cabo Serai (Goa), Shahpura Bagh (Shahpura), Assam Bengal Navigation, Svasara Jungle Lodge (Tadoba), Grand Dragon Ladakh, Rann Riders and Devshree.
Mrinalika M. Bhanj Deo, Owner of The Belgadia Palace in Odisha, will also be present at the upcoming event. She said,
The RARE Showcase 2022 gives us an exceptional opportunity to meet both inbound agents, agencies and hoteliers to share ideas and understand the larger ecosystem of the travel industry post the pandemic, which has drastically altered the landscape of global travel. This is an especially important event for lesser-known destinations such as Odisha, which are of great interest to an inbound market given it is promoting a local for global narrative highlighting its nature, heritage, culture and local cuisine, all keeping sustainability with the climate and community in mind. The future of travel is most definitely local and authentic experiences in offbeat locations – luxury is now curated and bespoke – something RARE champions very well.
Sharing his thoughts on his association with RARE India and on the upcoming event, John K Simon, the host at Windermere Estate in Kerala, said,
RARE India is a unique collection of experiential stays spread across the Indian Subcontinent that are truly special, diverse and yet unified by certain ethos. We have always cherished this relationship with RARE and the partner hotels. Over time, the RARE Showcase has been able to bring together a community that can find synergies in this niche space of mindful travel; it is one of the events that we would not want to be missing. This year it is even more special to us as this would be the first participation in such an event since the pandemic.