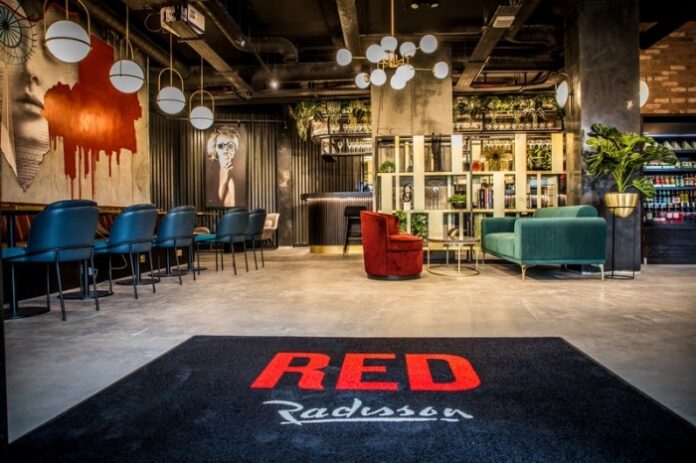 As part of a nationwide expansion strategy, Radisson RED Phuket Patong Beach will usher in a new era of bold, social, and hyper-connected hospitality to this popular destination.
After the signing of Radisson RED Phuket Patong Beach, a vibrant upmarket lifestyle hotel that will mark the premiere of the Radisson RED brand in the "Land of Smiles," Radisson Hotel Group will launch an exciting new age of social and elegant hospitality to Thailand. This is essential to the Group's plan to double its portfolio of operating hotels in Thailand by mid-2024.
Radisson RED Phuket Patong Beach, scheduled to debut in late 2023, is a conversion of an existing property in the centre of Patong Beach, which will be totally restored and relaunched in accordance with Radisson RED's bold design and brand standards. Destination Group, which recently partnered with Radisson Hotel Group to open the Radisson Resort & Spa Hua Hin and Radisson Resort & Suites Phuket, owns the property. This signing reaffirms the Group's ability to meet the needs of guests and owners in a variety of markets – including Asia's most popular destinations – with innovative brands and appealing business models.
Ramzy Fenianos, Chief Development Officer, Asia Pacific, for the Radisson Hotel Group, said:
We are delighted to strengthen our relationship with Destination Group with this landmark agreement for Thailand's first Radisson RED hotel. With its striking design, upbeat vibe and the flexibility to let guests seamlessly switch between business and leisure, Radisson RED has the power to inject new life into hotels and destinations. This makes it the perfect fit for Patong Beach, one of Thailand's most dynamic tourism hubs.
With its sophisticated, upmarket lifestyle design, Radisson RED offers social spaces that allow savvy travellers to kick back, relax, and feel the energy of their destination. The Radisson RED Phuket Patong Beach is situated in the centre of Patong, Phuket's principal commercial district, just 270 metres from the beach and surrounded by shopping malls, restaurants, and nightlife, allowing guests to experience the pulse of this vibrant tourist hotspot.
The hotel's mascot will be a life-size sculpture of a red lacquered elephant wearing earphones, a tribute to one of Thailand's most recognisable icons. Upon entering the whimsical, art-inspired lobby where a red tuk-tuk is the focal point, guests can use the check-in app for a stress-free welcome. The 390 rooms are all ultra-connected with high-speed Wi-Fi, streaming services, and USB connections, and a variety of Family Rooms with bunk beds and Party Rooms with designated fun spaces provide a variety of alternatives for every type of visit.
Visitors can unwind in the rooftop beach club, dine alfresco at the Warehouse, which specialises in rum and wine, or dance late into the night in the hidden speakeasy lounge. A grab-and-go kiosk makes it simple to refuel, the power gym is a wonderful place to exercise, and wellness options such as ice tubs and the Himalayan sea salt spa help guests relax. The resort features two swimming pools, including a rooftop pool, a movie theatre, a video arcade, and a kids' club that will delight both young children and adolescents.
Gary Murray, founder and chief executive officer of Destination Group, remarked:
We are delighted to partner with Radisson Hotel Group once again and proud to introduce Radisson RED to Thailand for the first time. This innovative brand will attract the new generation of 'always-on' travellers who crave connectivity above all else. We are confident that this cutting-edge, contemporary concept, combined with the global strength and support of Radisson Hotel Group, will make this hotel one of Patong's most exciting and coolest places to stay. This is the first hotel to be designed to meet the desires of post-pandemic travellers to Phuket. We are not just selling a room but more so we are selling an amazing Instagrammable experience in our resorts.
The Radisson Hotel Group revealed earlier this year its plans to expand exponentially in Thailand with a multi-brand expansion that will include new hotels and resorts in key destinations such as Phuket. Currently, the Company runs six hotels in Thailand in Bangkok, Phuket, and Hua Hin.