Global hospitality technology company OYO has announced a Stay Now Pay Later (SNPL) option to provide Indian travellers greater flexibility while planning their summer travels. As per OYO's Summer Vacation Index 2023, 82% Indians have plans to travel this summer, with 92% travelling domestically. Introduction of the SNPL feature allows travellers to plan their summer trips without the immediate financial burden, making travel more accessible and flexible. OYO has partnered with Simpl, a credit-based payments service, for this feature.
SNPL provides customers with a credit limit of up to INR 5,000 which can be settled after 15 days of the stay. The feature can be accessed on the home screen of the OYO app. Customers can then opt for the SNPL plan that best suit their requirements.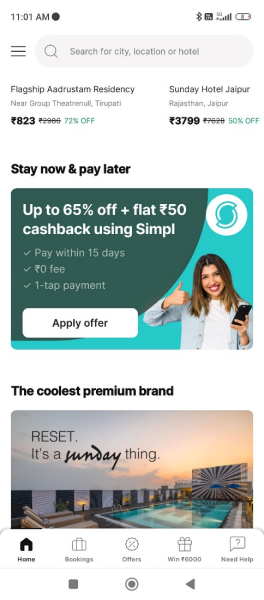 During a pilot conducted with 10% of its user base, OYO saw payment completion rates increase by 8%. Over 40% of the users utilised SNPL for transactions exceeding INR 2,000, indicating its appeal to cash-flow conscious travellers seeking a flexible payment solution.
The feature is currently available for Android users and will soon be rolled out for iOS users as well.
Commenting on the launch of the scheme, Abhinav Sinha, Global COO and Chief Technology & Product Officer, OYO said: "As a customer-centric organisation, we are constantly striving to make travel more convenient for our consumers. Travelling should only be about enjoying the experience with loved ones and we are constantly looking for solutions that help overcome any financial constraints that hinder our customers from pursuing their dream vacations. SNPL offers a convenient payment solution that caters to the needs of cashflow-conscious travellers. Through this, we aim to make travel more accessible and enjoyable, ensuring that our customers can focus on creating memorable experiences."
OYO continues to revolutionise the travel industry by introducing innovative solutions that prioritise customer convenience and satisfaction. The new "Stay Now Pay Later" feature represents another step in this direction.
Customers can do hotel bookings through a simple three click booking process on OYO Hotels app. Customers choose OYO's platform for many reasons, including accessibility to hotels at competitive prices, quality accommodation, ease of use of the app, personalization, and flexibility of the platform. Customers can also resolve their queries quickly with OYO's 24*7 chatbot – Yo! Chat.