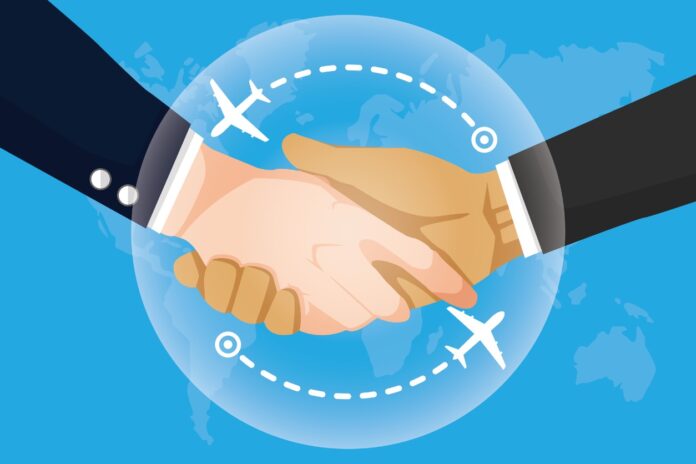 Saudi Arabian Airlines (SAUDIA), the national flag carrier of Saudi Arabia, and Kuwait Airways, the national flag carrier of the State of Kuwait, signed a codeshare agreement at SAUDIA's headquarters in Jeddah. The agreement provides enhanced connections and convenience to guests of both airlines.
As part of their codeshare agreement, each airline will place the marketing code of the other airline on its flights between Saudi Arabia and Kuwait and other routes with the alliance; the agreement will go into effect once the necessary approvals are obtained. The expansion of all forms of Interline Cooperation was agreed upon by both airlines, and its implementation is anticipated for the 2023 summer season.
The codeshare will further promote bilateral and strategic partnership to the benefit of both airlines, allowing them to offer more competitive and cost-effective services, thereby enhancing the travel experience of their passengers. The new Codeshare partnership will strengthen and elevate the existing cordial business relationship between SAUDIA and Kuwait Airways to new heights.
Four daily flights are operated by SAUDIA between Saudi Arabia and Kuwait to transport passengers.
Similarly, Kuwait Airways has been operating six daily flights between Kuwait and Saudi Arabia to serve passengers on this route.
Guests can anticipate to receive all of the advantages of codeshare flights, including seamless connectivity, baggage transfer, and the convenience of having their entire journey, from ticket purchase to arrival at their ultimate destination, managed by a single airline. In addition, passengers of both airlines will have more flight options within the network of the other.
Captain Ibrahim Koshy, CEO of SAUDIA, stated:
We are delighted to partner with Kuwait Airways and give their guests the opportunity to experience SAUDIA's world-renowned hospitality onboard. We look forward to further growing our relationship with this important partner and offer a better value proposition for guests, with more seamless travel experiences.
Eng. Maen Razouqi, CEO of Kuwait Airways, stated:
We welcome SAUDIA as our Strategic Codeshare partner. The new beginning of this Codeshare partnership will support Kuwait Airways and SAUDIA operations between the two countries, beyond routes and allow more travel options, facilities for the public as well as seamless transfer for both their Business and leisure travel. Passengers will be able to book directly on these flights through our offices, website, application and agents' reservation system. This strategic partnership envelopes Kuwait Airways transformation Beyond Excellence program that keeps the customers comfort and convenience always in the forefront of any business decision. We aim in providing the best expanded network choice to our customers either organically or through your partnerships with esteemed airlines like Saudi. Furthermore, this Codeshare Partnership will not only enhance the relationship between the two airlines but also the strong relationship between the two brotherly States, Kuwait, and Saudi Arabia. On this occasion, I would like to thank Captain Ibrahim Koshy, SAUDIA CEO and both the teams for their efforts in making this Codeshare/Interline Agreements effective.
He continued that both Kuwait Airways and SAUDIA are striving to implement the Frequent Flyer Programme for codeshare flights so that passengers can reap the rewards of such programmes. Additionally, both airlines foresee exploring additional avenues for future cooperation and partnership expansion.
As part of its commitment to the Kingdom's National Tourism Strategy, SAUDIA connects more than 100 international destinations to the Kingdom via its cutting-edge hub at King Abdulaziz International Airport in Jeddah and other critical stations.
As part of 'Wings of Vision 2030,' SAUDIA has reaffirmed its commitment to providing world-class services and launching new routes to bring the world to Saudi Arabia. The airline recently added new services to Kano, Nigeria, Dar es Salaam, Tanzania, Beijing, the People's Republic of China, Gatwick Airport, Birmingham, the Republic of Djibouti, Nice, France, and Johannesburg, South Africa.
Similarly, Kuwait Airways is committed to providing world-class services as it expands its network and product offerings, most recently adding 14 summer destinations to Athens, Antalya, Nice, and Malaga.