ln the 4th Annual General Body Meeting held on 26th Sept. at Hotel Maurya, Bengaluru, following Members were elected as the Managing Committee for the period 2023-25: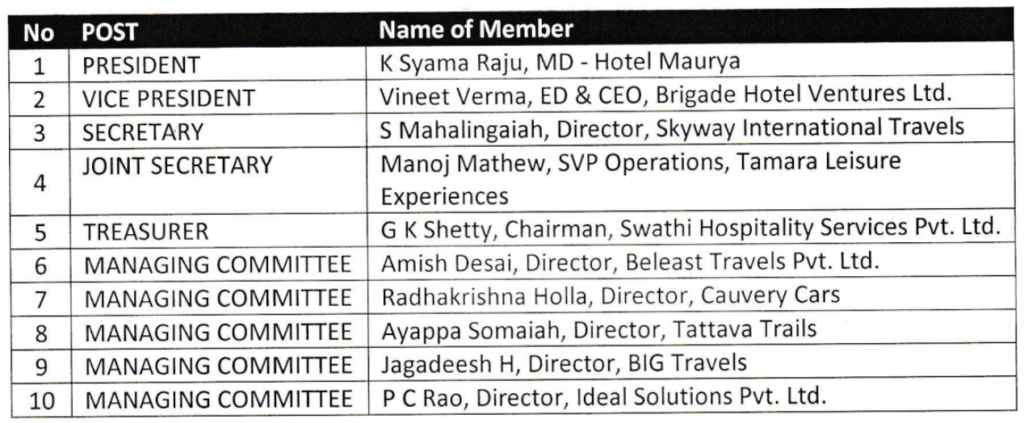 The Karnataka Tourism Society (KTS) was founded in 2019 with a view to promote tourism in Karnataka and to safeguard the interests of all stakeholders engaged in tourism.
ln the short period since its inception, the KTS has been instrumental in getting a lot of business-friendly benefits for the tourism stakeholders by closely working with the Government officials.
Some of the key initiatives the KTS has been able to get include – 20% discount for co-participation at national/international exhibitions and events participated by the Department of Tourism, Government of Karnataka, industry status for star-hotels, relaxation in business operations during the latter part of the pandemic period, conducting networking events for stakeholders across Karnataka with support from Department of Tourism, Government of Karnataka, conducting the L't edition of Karnataka lnternational Travel Expo ( KITE) – a B2B event for which over 400 Tour Operators & Travel Agents from lndia and overseas were hosted as well as taken on FAM trips showcasing Karnataka.
KTS also engaged with Department of Tourism, Govt. of Karnataka to draft the Karnataka Tourism Policy for the period 2OZL-2026.