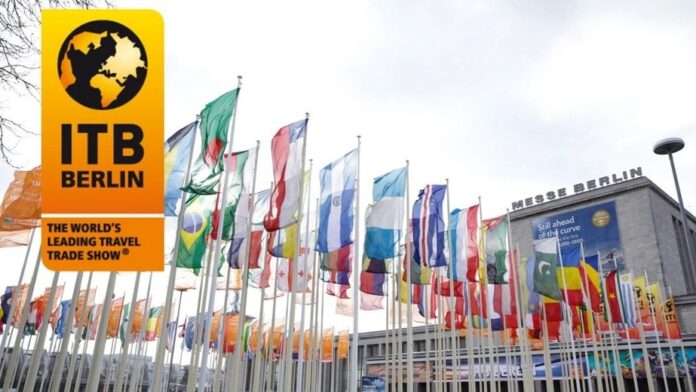 An enormous stage for a nation with such aspirations: ITB Berlin and Albania have just announced a close partnership for 2025. An agreement to collaborate was formalized through the signing of a memorandum of understanding on November 3, 2023, in Berlin. The Southeast European nation will thus serve as the Official Host Country of ITB Berlin 2025, a purely business-to-business exhibition that will be held from March 4th to 6th, 2025.
Deborah Rothe, director of ITB Berlin, and His Excellency Vilma Bello, Deputy Minister of Tourism, affixed their signatures to the memorandum of understanding. Furthermore, present at the ceremony were Herida Duro, the Director of Tourism Program Development, Edlira Zyfi, the Advisor to the Minister of Tourism, and H.E. Mrs. Adia Sakiqi, the ambassador of Albania to Germany.
The signing was accompanied by Deputy Minister Vilma Bello's remark, "As the World's Leading Travel Trade Show for the tourism industry, ITB Berlin is an exceptional platform that brings together stakeholders from numerous countries in the German capital. Albania has exceedingly great plans in the coming years and decades. The partnership will certainly give us an invaluable boost and bring us closer to a wide audience."
COO Messe Berlin, Dirk Hoffmann, commented that ITB Berlin has always had its finger on the pulse and is aware of trends and the potential of regions and countries. He added, "Albania is a nation with this very potential and we are very pleased to jointly lift the country's great treasure and provide it with an international stage."
"A few months ago, I had the honour of personally experiencing Albania's great hospitality and ambitious spirit on site," added ITB Berlin Director Deborah Rothe. "I am all the more pleased that our talks are now bearing fruit. The host country Albania will certainly enrich ITB Berlin 2025 enormously and win over numerous new enthusiasts for the country."
Albania has recently experienced notable surges in visitor numbers and is currently basking in an ever-growing surge in popularity. The country excels not only with its vibrant and colorful capital, Tirana, but also with its turquoise harbors, sea, and genuine, pristine backcountry. Moreover, Albania is a popular destination among tourists with a keen interest in mountaineering. Albania, in addition to its myriad benefits, provides an exceptionally favorable price-to-performance ratio.
Albania, in its capacity as the Official Host Country of ITB Berlin, intends to showcase itself to the B2B audience through various means. Albania will host the festive opening gala at the CityCube Berlin on Monday, March 3, 2025, the eve of ITB Berlin, to start off the trade show. It will, among other things, provide visitors with an exhibition of its culinary and traditional folkloric offerings. Albania will have a substantial booth at the trade exhibition located on the fairground. Ultimately, the nation is anticipated to have a significant impact on the agenda of the ITB Berlin Convention, which will occur concurrently with the trade show.