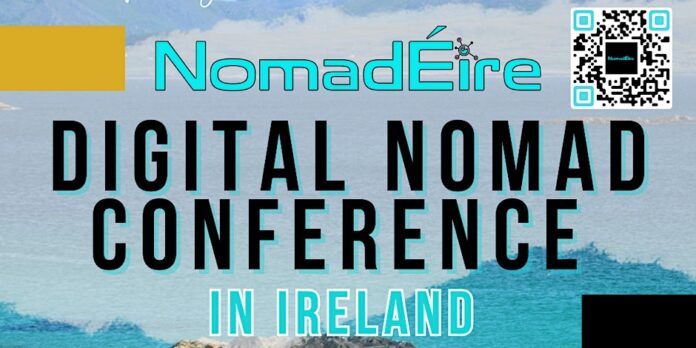 NomadÉire is pleased to announce that the inaugural Irish Digital Nomad Conference will be held in Tralee at the end of August.
This innovative event not only highlights Ireland's potential as a flourishing hub for remote work, but also celebrates the digital nomad lifestyle. NomadÉire aims to position Ireland as an attractive destination for digital nomads pursuing a unique combination of professional growth and a sustainable lifestyle, with a particular emphasis on rural development and sustainability.
As digital nomadism continues to grow in prominence, Ireland emerges as an ideal location due to its rich cultural heritage, breathtaking landscapes, and vibrant local communities. Tralee, located on the west coast of Ireland, is the ideal location for the conference due to its breathtaking scenery, welcoming atmosphere, and proximity to facilities that accommodate to digital nomads.
NomadÉire's primary mission is to promote rural development and sustainability. The rural areas of Ireland have unrealized potential and offer a welcome respite from the frenetic urban environments. NomadÉire seeks to bridge the gap between digital nomads and local communities by highlighting the opportunities available in rural Ireland, thereby fostering mutual growth and development.
The Digital Nomad Conference will feature a roster of renowned speakers, industry specialists, and successful entrepreneurs who will share their insights and experiences on remote work. Participants will acquire the knowledge, practical skills, and motivation necessary to flourish as digital nomads while contributing to the local economy and community development.
Consistent with NomadÉire's commitment to sustainability, the conference will emphasise eco-friendly practises and encourage digital nomads to adopt sustainable habits. From reducing carbon footprints to supporting local businesses, the conference seeks to promote responsible and conscientious living while embracing remote work.
"We are delighted to launch the first Digital Nomad Conference in Tralee, emphasizing Ireland's potential as a digital nomad hub," said Nomad Hub Ireland founder Danijela Maleti. "Our focus on rural development and sustainability reflects our belief in the transformative power of remote work and its positive impact on local communities. We invite digital nomads, entrepreneurs, and remote workers from Ireland and beyond to join us in this remarkable event and explore the opportunities that rural Ireland offers."
NomadÉire invites the media to explore and share the captivating stories of digital nomads, the advantages of remote work, and the movement for sustainable rural development. Journalists, bloggers, and influencers are encouraged to attend the conference and exhibit Ireland's dynamic remote work landscape. Please contact info@nomadeire.com to register for an all-access media pass.
For press inquiries, interview requests, and media credentials, contact Nomad Hub's founder, Danijela Maleti.
Please visit https://www.nomadeire.com/digitalnomadconference/ for more information regarding the NomadÉire Digital Nomad Conference.