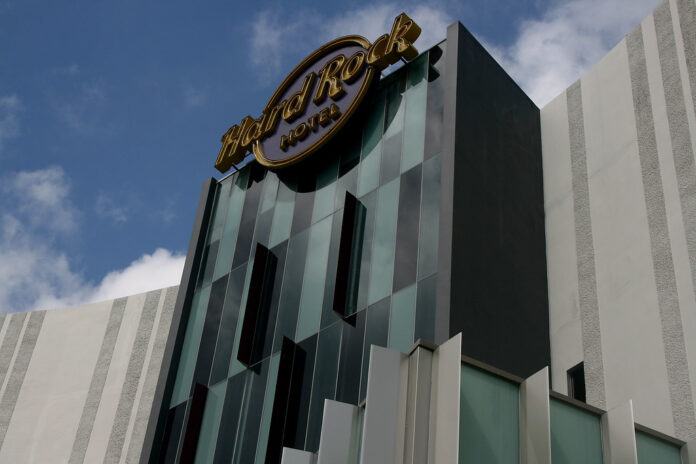 With the return of its annual PINKTOBER campaign, Hard Rock International continues its commitment to breast cancer awareness and research.
Throughout the month of October, Hard Rock Hotels, Cafes, Casinos, Rock Shops®, Bet and Games are "going pink" by supporting the Hard Rock Heals Foundation®, the charitable arm of Hard Rock, with proceeds going to the American Cancer Society and local charities. In addition to the millions of dollars donated over the course of the campaign's history, PINKTOBER raised more than one million dollars for breast cancer awareness and research last year alone, the largest amount Hard Rock has raised in a single year since the program's inception in 2000.
Jim Allen, Chairman of Hard Rock International said, "Hard Rock is proud to unite globally for the 24th PINKTOBER campaign and create philanthropic activations that support organizations which benefit survivors, thrivers and those impacted by breast cancer."
Activities and Events at Hotels
Hard Rock Hotels around the world will conduct philanthropic-focused activations, such as live concerts benefiting breast cancer research, in addition to engaging donation opportunities at local properties. Hard Rock Hotels will continue the Sound of Your Stay program and, in collaboration with Gibson, will display PINKTOBER custom-designed instruments throughout their properties. Guests can examine the instruments and make donations via QR code to aid in the fight against breast cancer. Guests of the Hard Rock Hotel will also have the opportunity to indulge in pink-themed beverages, desserts, and exclusive spa treatments at the Rock Spa® throughout the month.
Stay Strong Survivor Remains
Hard Rock Hotels encourages all supporters to nominate breast cancer fighters, survivors, and caregivers as we unite against this disease. One winner will receive a $5,000 donation to the American Cancer Society in their name, a four-night all-inclusive stay for two in Punta Cana, Vallarta, Cancun, Riviera Maya, or Los Cabos, and a personal coaching session with breast cancer survivor and wellness expert Samantha Harris. Visit the bookmarked post on @HardRockHotels for participation instructions.
Samantha Harris x Hard Rock.
Hard Rock Hotels has teamed up with Samantha Harris, an Emmy-winning TV host, bestselling author, certified health coach & trainer, and breast cancer survivor, for the purpose of sharing exclusive content containing advice from Samantha's "Your Healthiest Healthy" book and online courses. Exclusive videos will be accessible in-room and on the website hardrock.com/PINKTOBER. Additional tips will appear every Wednesday on Hard Rock Hotels' Instagram where Samantha will provide suggestions on sleep, nutrition and feel-good workouts to help survivors, thrivers and others feel their best. kindly visit @HardRockHotels and @samanthaharristv on Instagram to follow along.
PINKTOBER Pin and Limited-Edition Merchandise
In partnership with the American Cancer Society, Hard Rock International and the Seminole Tribe of Florida are commemorating the 20th anniversary of Nancy Frank's breast cancer survival with a limited-edition pin designed by Native American artist and tribe member Victoria Billie Osceola. The American Cancer Society will receive 100 percent of the proceeds from the sale of the commemorative pendant during the months of October and November, Indigenous Peoples' Month.
Additionally, Hard Rock International is selling limited-edition merchandise in support of breast cancer awareness and research, including a PINKTOBER-themed Hard Rock t-shirt, cap, water container, and tote bag. Through the Hard Rock Heals Foundation, a portion of the proceeds will be donated to organizations that raise breast cancer awareness and funds for research.
The PINKTOBER commemorative pin and 2023 retail collection are currently available at Rock Shops® in-store and online.
Cafe Activities & Events
In recognition of the unyielding courage of those battling breast cancer and breast cancer survivors, Hard Rock Cafe is kicking off PINKTOBER with a variety of local events designed to raise awareness and inspire our visitors to support a very important cause. Cafes will begin displaying their support for "Stronger Together" on October 1st, and guests will have the opportunity to donate through our "turn it up" campaign by rounding up their check to the next dollar amount. Additionally, a portion of the month's retail sales of the PINKTOBER collection will be donated to the Hard Rock Heals Foundation to support breast cancer charities, research, and global awareness.
To learn more about the PINKTOBER schedule of events and limited-time offers at Hard Rock Cafe, please visit www.hardrock.com/.