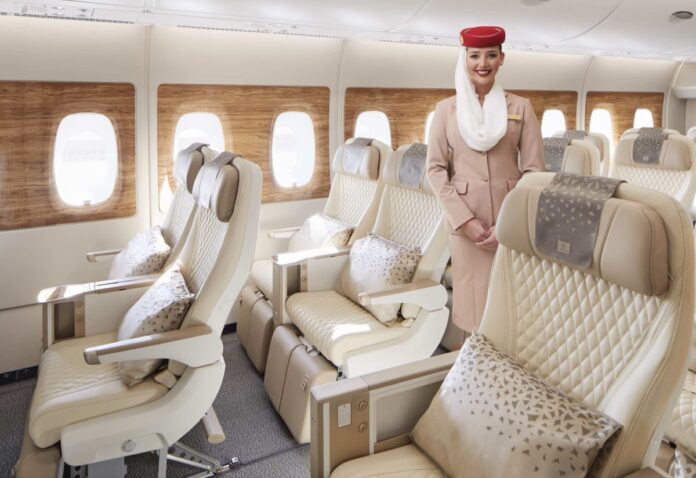 Emirates Airline of Dubai will launch Premium Economy service to Mumbai and Bengaluru on October 29, coinciding with the beginning of the winter prime season.
Beginning September 14, airfares from India to UAE are expected to decrease by 15-30%, from their midsummer peak of 40,545 to 58,565. These discounted fares are anticipated to remain stable within the range of 17,885 to 21,444 until November 1. After that, it is anticipated that fares will increase again, coinciding with the holiday season and the New Year's surge.
Basheer Mohammed, general manager of Europe Travel and Tours, stated,  "After an expensive summer, especially for average middle-class families, fares are finally stabilising in the India-UAE sector." He further added, "Currently, fares to the Mumbai and Delhi sectors are from Dh900 ( ₹20,271) to Dh1200 ( ₹27,028.04)" with similar values for South Indian destinations.
Many Indian expatriates were forced to postpone their travel plans because airfares increased by more than 200 percent compared to off-season dates. However, round-trip airfares have decreased substantially, making travel more accessible.
The UAE has seen an increase in inbound travel from 28-39%, with international travellers demonstrating strong interest in exploring the country's offerings according to Atish Thapa, Head of Business and Marketing Middle East, Cleartrip.com, reported Gulf News.
Indian tourists are extending their stays in the UAE. Approximately 24 percent of visitors are staying for four weeks, compared to 23 percent who choose to stay for one week. 15 percent of visitors to the UAE stay for five weeks, indicating that short-term tourists are looking for a quick getaway and longer-term visitors include those visiting family and friends.
As Q4 approaches, the UAE's travel landscape is expected to undergo a significant transformation, with an anticipated increase in inbound travel, particularly from India, which remains the UAE's primary source market for inbound tourists, according to Sachin Gadoya, CEO and Co-Founder of musafir.com and Musafir.