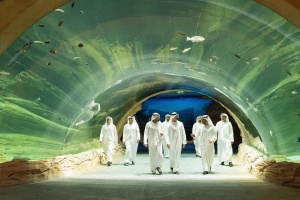 The impending attraction was inaugurated by Sheikh Khaled bin Mohamed bin Zayed Al Nahyan, Crown Prince of Abu Dhabi and Chairman of the Abu Dhabi Executive Council, prior to its opening.
Miral developed the newest theme park on Yas Island in collaboration with SeaWorld Parks & Entertainment.
Sheikh Khaled toured the attraction and was briefed on its 183,000sq m facilities, which offer marine-themed amusement and education to visitors while bolstering Abu Dhabi's position as a tourism hub.
Sheikh Khaled also visited Yas SeaWorld Research and Rescue, the MENA region's first integrated research, rescue, rehabilitation, and education institute.
Sheikh Khaled reviewed the centre's programmes, which aim to educate and inspire a new generation of marine enthusiasts while conserving the marine fauna, habitats, and ecosystems of the Arabian Gulf.
Mohamed Khalifa Al Mubarak, Chairman of the Department of Culture and Tourism in Abu Dhabi and Chairman of Miral, and Mohamed Abdalla Al Zaabi, Group Chief Executive Officer of Miral, accompanied him.
In addition to providing entertainment, education, and family-friendly experiences, such as animal encounters and animal presentations, the new Abu Dhabi attraction features rides and attractions, as well as dining and retail venues.
Mohamed Khalifa Al Mubarak, Chairman of Miral, stated, "Today marks a great milestone for Abu Dhabi as we open SeaWorld Yas Island, Abu Dhabi, a landmark attraction that is unparalleled in the region and the world on every level."
He added that SeaWorld Abu Dhabi represents the next iteration of theme parks, joining the world-class attractions on Yas Island, further establishing it as a top global destination and contributing to the expansion of Abu Dhabi's tourism vision.
Mohamed Khalifa Al Mubarak continued, "The Park will also play a key role in promoting environmental awareness and protecting marine life in Abu Dhabi, the UAE and the wider region, undoubtedly inspiring guests to care for and protect our precious marine life for years to come. We are proud to be pushing the limits of science and conservation to create a truly unparalleled knowledge hub, demonstrating our joint commitment to upholding the highest standards of animal care and welfare.
We look forward to welcoming guests from around the world to showcase the beauty and wonder of the ocean at this one-of-a-kind park."
Scott Ross, Chairman of SeaWorld Parks & Entertainment, remarked, "It is with great privilege we celebrate this highly anticipated grand opening alongside our valued partners at Miral.
"The extraordinary SeaWorld Abu Dhabi Marine Life Theme Park was born through years of collaboration and innovation, combining SeaWorld's nearly 60 years of experience in animal welfare and commitment to marine conservation with Miral's unprecedented track record as a leading developer of world-class destinations.
"Together, we have created a state-of-the-art Marine Life Theme Park unlike anything the region has seen to date, truly representing a next generation SeaWorld experience. We have no doubt that guests will be amazed with all that SeaWorld Abu Dhabi has to offer and we are proud to play our part in inspiring their commitment marine conservation for years to come."
Recently, SeaWorld Abu Dhabi announced its certification by Global Humane, the international trademark of American Humane and the largest animal welfare certifier in the world. This facility is the first in the MENA region to receive this certification.
SeaWorld Abu Dhabi is the most recent addition to Yas Island's lineup of theme parks and attractions, which also includes:
World Warner Bros. Abu Dhabi
Ferrari World Abu Dhabi
Yas Waterworld CLYMB Abu Dhabi.
In 2022, Yas Island and its world-class theme parks, experiences, and attractions were honoured with seven prestigious World Travel Awards. In addition to receiving the title of World's Leading Theme Park Destination 2022, Yas Island also received the Middle East's Leading Tourism Development award for the fourth year in a row, demonstrating the island's global reputation as a leisure and entertainment centre.