If you've ever considered working for an airline, 2023 may be the year for you. Alaska Airlines has announced plans to hire over 3,500 new employees in a variety of roles and responsibilities this year. As Alaska Airlines continues to expand and add dozens of new airplanes to their fleet, the airline requires the addition of thousands of new members to the Alaska family.
From maintenance technicians to contact centre agents, flight attendants to pilots, customer service representatives to software engineers, the airline will have positions open for everyone who wishes to join their team.
The majority of new positions are located in Seattle and Portland, as well as other West Coast cities. In some positions, the possibility to work from home and schedule flexibility are also available. Numerous positions do not require prior airline experience; therefore, now is the ideal time to begin a new career. Throughout the year, vacancies will be posted at careers.alaskaair.com.
Andy Schneider, senior vice president of people at Alaska Airlines, stated, "It's an exciting time to join our team, and we're eager to welcome more great people to Alaska. We offer a wide variety of positions, and we pride ourselves on nurturing talent and providing opportunities to learn new skills and move into new, challenging roles. Come join our winning team!"
Here is an overview of the approximate number of new hires the airline will be seeking for each position this year.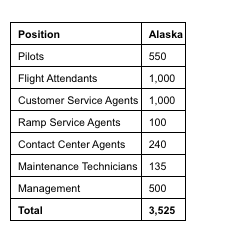 Creating a beloved airline begins with dedication to creating an organization where friendly, remarkable, and hardworking employees like their work and coworkers. The work is stimulating, Alaska Airlines works as a cohesive unit, and you can have the opportunity to explore the globe. It is unlike any other workplace setting.
The airline provides travel privileges so that you can explore and connect with family and friends; competitive pay and unique bonus schemes to reward you when the company is successful; and robust health and wellness benefits.
Alaska Airlines is committed to providing career growth opportunities in an inclusive environment. Many of the airlines management staff began their careers in front-line positions before advancing to supervisory or corporate positions. The possibilities are limitless.
Visit careers.alaskaair.com for more information.