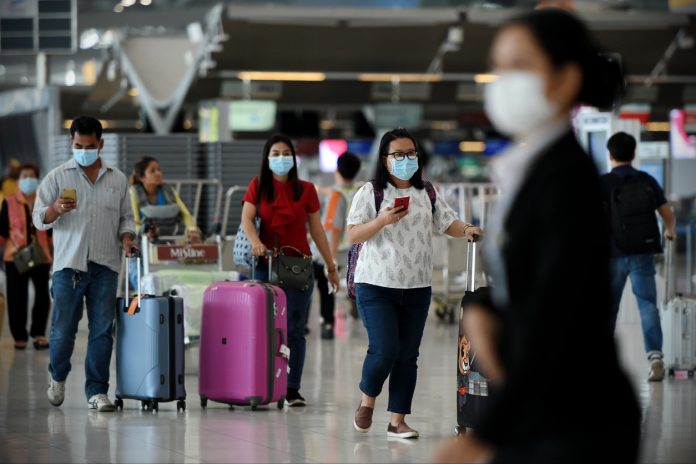 Boris Johnson has confirmed that passengers who have been doubly vaccinated will no longer be required to do pre-departure Covid tests for travel to England, from 04:00 GMT on Friday.
They won't have to self-isolate while waiting for test results once they arrive in England.
If they arrive after 04:00 GMT on Sunday, they must do a lateral flow test the next day and, if positive, a PCR test the following day.
Travel companies had requested that the tests be withdrawn, hence the modifications.
Following the discovery of the Omicron variant, the government mandated that all travelers over the age of 12 produce documentation of a negative lateral flow or PCR test done within two days of arriving in the UK.
People who are fully vaccinated must additionally pay for a PCR test within 48 hours of arrival, while those who aren't must take pre-booked PCR tests on days two and eight after arriving, as well as self-isolate for 10 days.
At present, travellers must pay for private tests as opposed to using free NHS tests.
The pre-departure test, according to the prime minister, discourages people from travelling for fear of being stranded overseas and paying significant additional expense.
The announcement comes after airlines claimed that passenger testing had almost no effect, citing figures from last week that suggested one in every 25 passengers in England had the virus.
They also claimed that mandatory testing had slowed the sector's recovery.
Mr Johnson met with his cabinet earlier this week, and the government said that, in addition to modifications to travel tests, it will relax Covid testing standards for persons without symptoms, who will no longer be required to confirm a positive lateral flow test with a PCR.
For the time being, this rule change will take effect on January 11th and will only apply to England.
Boris Johnson said on Tuesday that he thought the UK could "ride out" the current wave, while he admitted that parts of the NHS will be temporarily overwhelmed.
Julia Lo Bue-Said, CEO of Advantage Travel Partnership, commented on the news, saying: "The relaxation of travel restrictions is of course a positive for the travel industry.
"Scrapping the pre-departure test and replacing subsequent PCR day two test and therefore self-isolation on arrival back into the UK with a cheaper and effective lateral flow test will help to boost confidence at what is traditionally the busiest booking period of the year.
"Our members are currently trading on average at about 50 per cent of 2019 levels and are beginning to see that pent up demand come through following 20 months of the toughest of trading conditions."
She added that travel will remain increasingly complex this year, however if consumers can rely on less perplexing government intervention, a continuation of a more flexible approach from travel companies, and the expertise of a human travel agent to help guide them through the booking process from take-off to touching down, she is hopeful that we will see the industry gradually bounce back.
– India's new age travel digital media