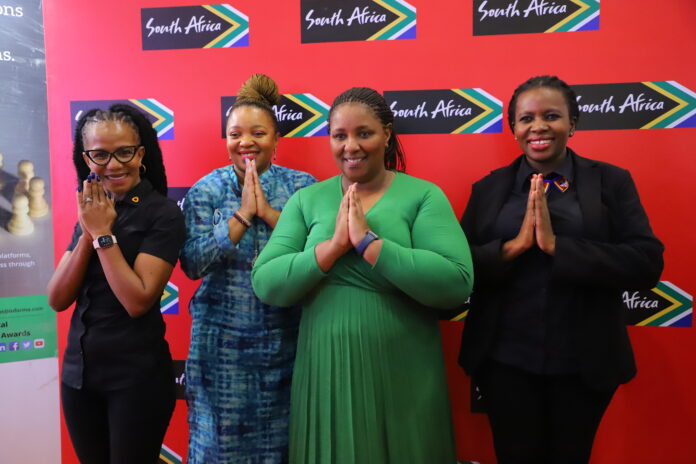 ~Issues over 7000+ visas from Delhi and Mumbai since the start of 2022~
~On track to meeting India targets for the year, with over 4,600 visitors travelling to South Africa in January & February 2022~
~Anticipates large footfalls from MICE, post receiving enquiries from groups of 2000 to 4000 pax~
Mumbai, 19th May 2022: South African Tourism concluded yet another highly successful association with South Asia's leading travel show, SATTE 2022. The tourism board showcased destination South Africa and addressed members of the press at the 29th edition of the trade show, held at India Expo Mart, Greater Noida in Delhi NCR from 18th to 20th May 2022.
South African Tourism, along with 32 prominent South African exhibitors, introduced novel and upgraded destination offerings. The delegation included 2 key South African provinces namely Mpumalanga Tourism and Parks Agency, Gauteng Tourism Authority, unique accommodation options, luxury experiences, offbeat activities, SMMEs, advanced MICE infrastructure providers, as well as adventure, wildlife and culinary capabilities. The collective South African exhibition concluded a multitude of productive meetings and new business partnerships with the key players in the travel and tourism industry.
One of the key agendas for the tourism board during SATTE 2022 was to empower local SMMEs, along with youth and women-owned businesses. These businesses – which are the building blocks of the South African economy – are all set to receive a host of Indian visitors and deliver exclusive, customized and memorable experiences to Indian travellers.
Earlier this year, the tourism board outlined a strategic roadmap to garner 64% YoY increase in Indian visitors in 2022. With over 4,600 Indian visitors travelling to South Africa during January & February 2022 itself, the tourism board is well on track to achieve or even surpass these targets, especially with the opening up of international air routes and easing of travel restrictions.
Having successfully launched & promoted diverse, authentic destination offerings via the More & More campaign, that was immediately followed by a 4-city Roadshow in India and experiential consumer, corporate and trade activations, the tourism board is witnessing an uptick in demand for the destination. According to South African Tourism, 7000+ visas have been issued from Delhi and Mumbai until now this year.
Speaking about the association, Neliswa Nkani, Hub Head – Middle East, India and South East Asia, South African Tourism said, "We are extremely delighted and humbled with reception destination South Africa is receiving at SATTE 2022. We are also grateful to the trade fraternity for their support and conviction in the brand that enables us to roll-out offbeat and value-for-money itineraries. This year, we anticipate that MICE will be a driving force behind travel recovery and are happy to share that the tourism board is already seeing enquiries for large groups ranging from 2000 to 4000 pax from India."
"We are also proud to have had the opportunity to host 13 SMMEs and 11 women and youth-owned businesses as part of the exhibitor delegation. One of our core objectives at South African Tourism is to support and grow the local economy. SMMEs play a major role in the travel ecosystem and it is our privilege to partner with these game-changing exhibitors who help bring unique, new, fresh and innovative experiences to the table," she continued.
At present, several stop-over flights fly from India to South Africa, including Emirates, Air Seychelles, Qatar Airways, Etihad, RwandAir, Ethiopian Airlines and Kenya Airways. Travellers from India to South Africa will be required to produce either a complete vaccination certificate or a negative PCR (polymerase chain reaction) test, not older than 72 hours from the time of departure from the country of origin to South Africa.