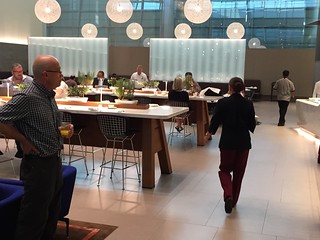 The World's Best Airline has unveiled the new Al Mourjan Business Lounge dubbed 'The Garden' at Hamad International Airport (HIA). The lounge overlooks 'The ORCHARD', which is accompanied by renowned retailers and restaurants, and offers uniquely designed relaxation spaces and areas to socialise and appreciate a scenic work of art.
The Garden is an exclusive sanctuary for Qatar Airways Premium Passengers that spans 7,390 square metres and can accommodate up to 707 passengers. In addition to seven spa treatment rooms and 24 silent areas designed to provide optimal relaxation for the first six hours free of charge, the hotel features seven spa treatment rooms.
The new lounge caters to the needs of business, leisure, and family travellers by providing a variety of dining options, relaxation rooms, a fitness studio, pedicure and manicure stations, spa facilities, dedicated private spaces, recreational areas, and a nursery for Premium cabin passengers. The lounge's distinct design is influenced by contemporary sensibilities and incorporates natural light, providing passengers with an immersive experience reflective of The ORCHARD below.
His Excellency Mr. Akbar Al Baker, Qatar Airways Group Chief Executive, stated, "At Qatar Airways, excellence is embedded in the core of our brand, and as we continue to evolve our offerings, we choose to provide our passengers with the very best experiences in aviation and hospitality. Passengers can now enhance their journey to a new level at our newly opened Al Mourjan Business Lounge – The Garden at Hamad International Airport. This world-class lounge showcases a sophisticated way of travel, centred in comfort, wellness and nature. I welcome our premium passengers to experience this spectacular addition to our signature lounge portfolio."
Al Mourjan Business Lounge – The Garden, located in the northern expansion of Hamad International Airport, will captivate premium passengers with its luxurious amenities, making it a landmark within the award-winning airport.
Al Mourjan Business Lounge – The Garden is an extension of the renowned Al Mourjan Business Lounge – South, which has been named the World's Best Business Class Lounge Dining by Skytrax Airline Ratings Awards and is exclusive to Qatar Airways First and Business Class passengers. Together, the two lobbies can accommodate up to 1,600 passengers at once and provide luxurious amenities such as showers, dressing rooms, business areas, and relaxation areas in the Northern and Southern regions of HIA.
The Garden at Al Mourjan Business Class Lounge
Major Facts
Facilities:
Single and double quiet rooms
Showers and lavatories
Nursery
Children's recreation space
Game room
Smoking room
Gym:
Treadmills 
Elliptical Exercise cycles 
Locker rooms 
Spa:
Manicure/pedicure stations
Chairs with neck and shoulder massages
Comfortable chairs
examining chambers
Changing rooms
East Wing – Dining Choices
Passengers can choose from hot and cold buffets, sushi & salad, coffee & patisserie, cocktail & bistro bar options and à la carte cuisine in the East Wing's primary dining areas.
Buffet Area:
Extensive selection of local and international cuisine, including soups, appetisers, and main courses.
Fresh patisserie assortment
Cake and desserts assortment
Sushi station
Salads, breakfast bowls, and poke bowls made to order.
Coffee and Pastry Shop:
Fresh fruits, beverages, and smoothies are available.
assortment of pastries
Customised sandwiches
Barman served hot and chilled drinks
Gelato and ice cream vending machine
Bistro and Cocktail Bar:
Savoury snacks and starters
Wine, spirits, beer, mixed drinks and mocktails
West Wing – Dining Options
This section of the lounge contains the restrooms, quiet areas, prayer rooms and meeting rooms, as well as a coffee and pastry bar and a refreshment station.
Coffee and Pastry Shop:
Fresh fruits, beverages, and smoothies are available.
assortment of pastries
Customised sandwiches
Barman served hot and chilled drinks

Refreshment Counter:
Tea and coffee assortment
Simple munchies
Arabic candies
Popular libations