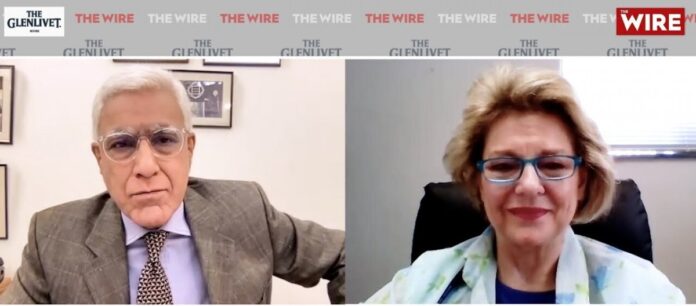 In an interview that assesses the new Covid-19 variant Omicron or B.1.1.529 in terms of its impact so far in South Africa, the Chairperson of the South African Medical Association has reassuringly said: "Today the situation is not of huge concern to us. We are not overwhelmed by this surge. It's not that we can't keep up with sick persons".
Dr. Angelique Coetzee has said that on the basis of what she, as a leading clinician in Pretoria, has personally seen as well as what has been reported to her by doctors in the rest of the Pretoria area – and further afield from the rest of the country, because she is Chairperson of the South African Medical Association – the cases they have seen so far are mild, although she doesn't exclude the possibility that some severe cases may have been admitted directly to hospital.
She also says judging by her experience and that of the Pretoria region, the transmissibility of Omicron is "more or less the same as Delta". She doesn't think reports suggesting Omicron's R value is 6-times higher than Delta, as said by Tom Wenseleers, Prof. of Biology and Biostatistics, Ku Leuven University, are correct. When specifically asked she said: "I don't think so".
In a 27-minute interview to Karan Thapar for The Wire, Dr. Coetzee first spoke at length about what she has herself seen as a clinician in Pretoria. She has in the last 10 days personally met 30-40 Covid-19 patients, all of them without exception, have only had mild symptoms, which are usually fatigue and headache. Initially, when these cases first came to her, she thought it was "a viral infection". Dr. Coetzee also said that 50% of the cases are unvaccinated. Only three were fully vaccinated. The rest, presumably, were partially vaccinated.
Dr. Coetzee, according to reports, is the doctor who first reported the unusual symptoms which suggested these infections were not Delta but something else. This was then corroborated by genome sequencing done by South African scientists at remarkably rapid speed.
"The first person was 30. He was complaining of fatigue and headache. It looked like a viral infection". Dr. Coetzee did a rapid test which turned out positive. The person was not vaccinated. Thereafter, the entire family, including a baby, turned out to be positive. More importantly, none of them have developed serious illness.
Speaking of her colleagues in the Pretoria region who, presumably, send their reports to her as Chairperson of the country's Medical Association, she says none of them have seen severe cases so far.
However, Dr. Coetzee emphasized that its only 5 days since the first Omicron case was reported in South Africa on the 24th. It's 7 days since the first case was reported in Botswana on the 22nd. These are early days, she said, we must wait for another 10 days and only after two weeks are over can we confidently say the symptoms remain mild. It's still possible that very serious illness can develop in the next 6 days.
However, having said that, Dr. Coetzee added she is "quite confident the severity of infection will stay low … patients so far haven't progressed to severe disease". But she also repeated this could change and we need to wait at least 10 days more to be certain.
Dr. Coetzee said so far there is no real pressure either on hospital admissions or ICU in the private sector in South Africa.
Talking about the possibility Omicron may render vaccines less effective, Dr. Coetzee said: "On paper it looks like that but we need to judge by clinical experience". As yet we can only speculate. We do not have a definitive answer.
Asked how effective is South Africa's ability to track the impact of Omicron in terms of transmission and serious disease, Dr. Coetzee said a comprehensive system is in place, with daily reporting from hospitals, laboratories as well as doctors at ground level. This is, in a sense, corroborated by the remarkable speed with which South African scientists detected B.1.1.529 and reported it to the world.
Dr. Coetzee said that the response of many countries to cancel flights to South Africa – and in a sense bang the door on the country – is "absolutely unacceptable". She said its "unwarranted" and a "knee-jerk reaction". She added that "going forward this will affect openness and transparency".
The Wire asked if given the emergence of Omicron has happened against a background of severe vacancy inequity, does this inequity underlie its emergence and Dr. Coetzee began her answer with a straight "yes". She then forcefully added: "no one is safe until Africa is vaccinated. If Africa is to be the stepchild and richer countries don't reach out then no one can be safe".
This is a paraphrased precis of Dr. Angelique Coetzee's interview to Karan Thapar for The Wire. Although recounted from memory it's not inaccurate. There is, however, a lot more in the interview than has been covered by this precis. Please see the full interview for a better appreciation and understanding of what Dr. Coetzee has said, which will explain to you the reality on the ground in South Africa. Remember, she is the Chairperson of the South African Medical Association. Scientists can speculate but she is a top doctor who is seeing the reality facing her and her colleagues in the Pretoria region as well as the full country.