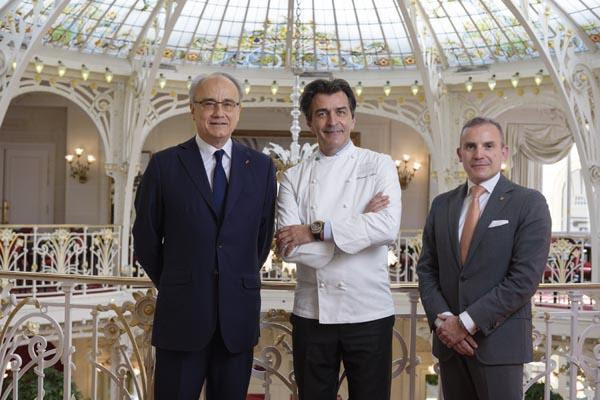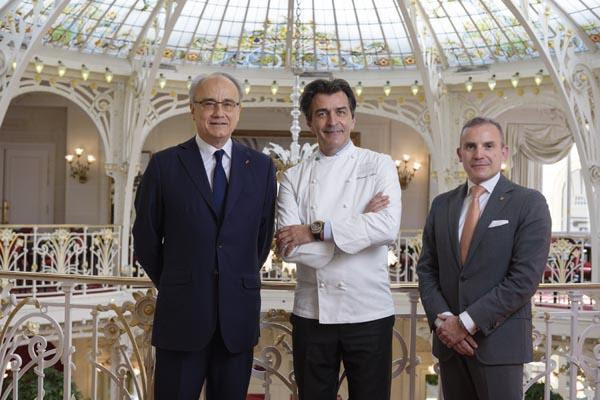 The mission that Jean-Luc Biamonti, President of Monte-Carlo SBM, and Louis Starck, Managing Director of Hotel Hermitage Monte-Carlo have entrusted to him can be summed up in 3 words: tradition, excellence, and modernity, values that the chef embodies throughout the world and shared by the Group for the past 150 years.

Yannick Alléno à l'Hôtel Hermitage, an encounter between two exceptional personalities.

The gastronomic restaurant of the hotel is preparing to undergo a spectacular metamorphosis by becoming the new address associated with Yannick Alléno, who is establishing himself on the Côte d'Azur for the first time. Hotel Hermitage Monte-Carlo is the embodiment of a unique experience in the Principality, where memory, talent and a sense of service come together to create the appealing atmosphere of a refined palace. Yannick Alléno owes his current international reputation to his vision of cooking as part of French tradition with a thoroughly modern perspective, open to the world, and it makes each one of his restaurants an experience that is unmissable.

Yannick Alléno à l'Hôtel Hermitage, a new emblem of the attractiveness of Monaco

The arrival of the multi-starred chef in the Principality from April 2021 is an event that is certain to bring joy to lovers of gourmet cooking, offering fine diners of the region the chance to visit this exceptional restaurant. It is yet another asset for the discerning international clientele of the Monaco Palace and the Monte-Carlo SBM Group. The arrival of Yannick Alléno is in its initial phase this year, with the deployment of the new menu accompanied by a reorganization of the famous restaurant terrace that boasts an incomparable view over the Mediterranean and the Rock

Yannick Alléno à l'Hôtel Hermitage, a new and audacious project for the SBM Group

This strategic and gastronomic repositioning, an extension of several projects undertaken by Monte-Carlo SBM over the past 5 years, bears witness to the Group's desire to look to the future, to continue to surprise and to project its energy into new culinary offerings.



Louis Starck, Managing Director of Hotel Hermitage Monte-Carlo: 
"With Jean-Philippe Borro and our restaurant teams, we are delighted to welcome Yannick Alléno. The talent and the visionary approach of this multi-starred chef, combined with our history and know-how, promise exciting times ahead for our discerning local and international clientele. We are very happy"."My thanks go to the SBM for its confidence and I am very honored to join the teams of this emblematic location at the heart of the Principality. L'Hermitage is everything I love; a historic and utterly charming hotel and I am looking forward to cooking there. For me, Monaco is a destination with a genuine culinary life, a varied and multicultural city, an extraordinarily joyful spot in which excellence reigns", said Yannick Alléno on this occasion.
***
About Monte-Carlo SBM Group
Since 1863, Monte-Carlo Société des Bains de Mer has been offering a unique Art of Living, a one-of-a-kind resort with casinos, including the prestigious Casino de Monte-Carlo, four hotels (Hôtel de Paris Monte-Carlo, Hôtel Hermitage Monte-Carlo, Monte-Carlo Beach, Monte-Carlo Bay Hotel & Resort), the Thermes Marins Monte-Carlo spa, 30 restaurants including five that together have seven Michelin Guide stars. A hub of nightlife, the Group offers an incredible selection of events. The metamorphose of Hôtel de Paris Monte-Carlo, the creation of a new district around Place du Casino, One Monte-Carlo (luxury accommodation, shops, restaurants and a conference centre), the new Place du Casino contribute to make Monte-Carlo the most exclusive experience in Europe.
About Monaco
Welcome to Monaco. A Riviera Gem. An international cultural center for ballet, opera, music, theatre and exhibitions. A place where great minds meet for business at the Grimaldi Forum Monaco. Experience heart-stopping sports action at Monaco, F1 Grand Prix and Tennis Masters and at the tables of the Casino de Monte-Carlo… or retreat to our luxurious spas (Les Thermes Marin, ESPA, Les Cinq Mondes, Willow Stream). World-class hotels (including the Hotel de Paris, Hotel Metropole Monte-Carlo, Fairmont Monte Carlo, Monte-Carlo Bay Hotel, Le Meridien Beach Plaza, Monte-Carlo Beach Hotel, Port Palace Monaco and the Hotel Hermitage) host the world's most discerning guests.
MEDIA CONTACT :
RUMA GUPTAPublic Relations Manager
Monaco Government Tourist Bureau
C/o TRAC Representations (I) Pvt. Ltd.
A-61, 6th Floor, Himalaya House, 23, Kasturba Gandhi MargNew Delhi – 110001, INDIA
T. +91 11 23730136 – E. pr@tracrep.comwww.visitmonaco.com