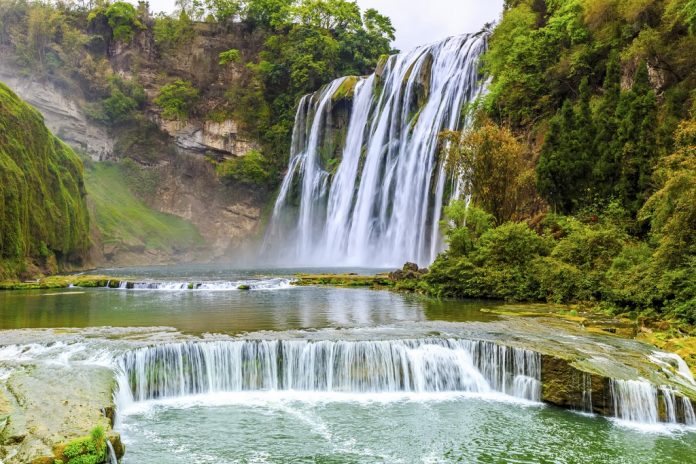 Guiyang is renowned for its abundant mountain resources, comfortable climate, and diverse ethnic cultures. It is a popular travel destination due to its magnificent natural landscapes, including mountains, rivers, forest parks, and hot springs.
Additionally, Guiyang's status as a provincial capital with a variety of ethnic groups, especially the Miao and Buyi ethnic cultures, contributes to its unique appeal. In recent years, Guiyang has investigated the "tourism+" model to provide visitors with immersive travel experiences that combine culture, health, agriculture, and ecology.
Guiyang integrates traditional ethnic culture into the tourism experience in terms of culture and tourism. Villages of the Miao and Buyi ethnic minorities allow visitors to immerse themselves in their culture, attire, and performance. Guiyang also hosts a number of ethnic cultural events, such as the Miao silver jewelry exhibition and the Buyi April 8th Song Festival.
Guiyang actively develops healthcare tourism by capitalizing on its natural advantages. Here, visitors can engage in healthy recreational activities such as hot spring therapy, forest bathing, and outdoor yoga. In addition, the city offers medical tourism services, such as thermal springs associated with traditional Chinese medicine and ethnic medicine therapy.
As for agriculture + tourism, Guiyang combines rural cuisine with tourism, enabling visitors to savor local specialties such as sour soup fish and Miao-style sticky rice with chicken. The participation of tourists in agricultural activities such as fruit harvesting, vegetable planting, and animal feeding facilitates a deeper connection with nature.
Guiyang prioritizes ecological environment preservation and integrates the concept of green development into the tourism industry in terms of ecology + tourism. There are national-level nature reserves, forest parks, and other ecological resources in this area, which provide visitors with tranquil and picturesque recreation areas. The availability of ecotourism programs such as ecological hiking and nature observation enables travelers to appreciate the splendor of nature while fostering environmental consciousness.
To further enhance the visitor experience, Guiyang has adopted a 'pleasant travel' strategy, ensuring that tourists have a relaxing and pleasurable journey throughout their stay. This strategy incorporates a variety of individualized measures.
Guiyang has introduced a variety of tourism-related products and activities aimed at various age groups and consumer levels. There are parent-child packages, for instance, that enable parents and children to experience the allure of nature and culture jointly. Large-scale events, such as music festivals and culinary festivals, provide ample opportunities for engagement and interaction for younger travelers.
Even bridges in Guizhou have undergone inventive renovations. Based on the landscape established by the world's tallest concrete bridge structure, the Sky Bridge Service Area offers facilities such as hotels, a bridge science museum, and RV campsites, attracting over 2 million visitors so far. By the end of 2022, nearly half of the top 100 tallest bridges in the globe would be located in Guizhou. By utilizing this resource, Guizhou is increasing the regional economic value of bridges and fostering tourism development in Guizhou.
The Pingtang Grand Bridge has reduced travel time between Yazhou Town and Tongzhou Town in Pingtang County from one hour to three minutes. According to Luo Chihao, director of the Sky Bridge Service Area, enhanced transportation has stimulated the development of logistics, reducing fruit transportation losses from 10 to 13% to approximately 1%. Now, beneath the Pingtang Grand Bridge, a 10,000-mu fruit farming facility has been established; it cultivates 38 varieties of high-quality fruits, including loquat, bayberry, mulberry, and April peach, thanks to natural advantages such as the canyon climate and sufficient sunlight. This year, the Sky Bridge Service Area added new cooperative businesses, resulting in 1,04 million yuan in fruit and vegetable sales for Pingli River.