British Airways has grounded almost 1,600-plus flights in anticipation of the largest pilot strike in the carrier's history. All flights scheduled to fly to and from London's Heathrow and Gatwick airports Monday and Tuesday have been grounded.
The airlines released an official statement saying, "We're extremely sorry for the problems caused by the strike action called by the pilots' union, BALPA. If your flight is cancelled, please do not go to the airport."
Passengers have been shifted to flights on other carriers
British Airways has transferred most of the estimated 240,000 passengers booked on strike-affected flights to other services on its own aircraft reports Travel Pulse. The flights will be on different days or on aircrafts belonging to as many as 50 other carriers. The airlines are operating at least two routes Monday and Tuesday. This includes Gatwick to New York City via third-party airline Evelop and inbound service from Sydney via Singapore. British Airways is operating a relatively normal schedule on Sunday.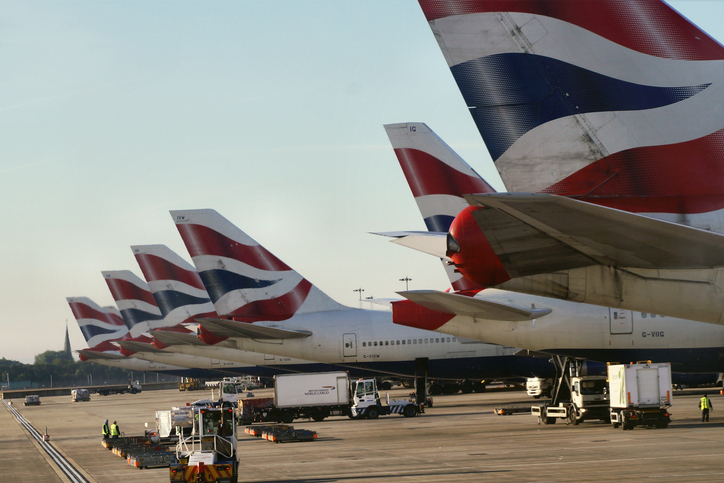 British Airways' plan is to ensure aircraft serving long-haul destinations and some European cities to remain on the ground at foreign airports Monday and Tuesday. This has been done to avoid overcrowding Heathrow and Gatwick.
Another strike is planned on September 27
After Tuesday, British Airways customers might still face inconvenience as pilots are planning another strike for September 27. The airline confirmed that it "proposed an offer of 11.5 per cent over three years to BALPA…which we believe is fair." BALPA, however, is disputing the figure.
BALPA general secretary Brian Strutton said in a statement: "Our members' resolve is very strong and they remain very angry with BA but they also want to leave no stone unturned in trying to find a resolution to their dispute. Avoiding strike action and agreeing to a deal with their pilots surely must be the desired outcome for British Airways."
The stoppage of work on Monday and Tuesday is expected to cost British Airways £100 million ($122.8 million) in lost revenue and additional costs.